Frozen Treats For Summer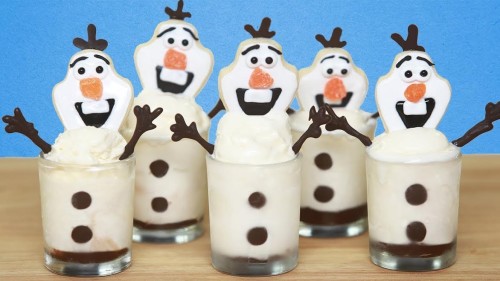 A fun way to relax on a sunny day is with an ice-cold treat.  Why not indulge with Frozen's character Olaf, who only wishes to enjoy summer himself?  With the help of  You Tube star, Rosanna Pansino, create a hot-fudge Olaf cookie sundae, inspired by the Oscar winning animation.
Ingredients:
– All-Purpose flour
– 1 egg
– Butter
– Betty Crocker Sugar Cookie Mix
– Vanilla Ice Cream
– Smuckers Hot Fudge
– Dark Chocolate
– Orange Gummies
Tools:
– Glasses
– Mixing Bowl
– A Mixer
– Wax paper
– Parchment Paper
– Cookie Sheet
– Rolling Pin
– Scissors
– Plastic Bags
– Heart shape or teardrop cookie cutters
Directions:
Follow the instructions on the sugar cookie mix recipe. Use the rolling pin to roll out cookie dough.

Take a teardrop shaped cookie cutter and cut out the shape in the rolled out dough.  After, use the heart shaped cookie cutter and one of the heart bumps and make two small divots into the teardrops to make it look like Olaf's face when he smiles.

Use your fingers to round out the two divots. Then, bake the cookies.

Use a computer to print out images of Olaf's arms and little hairs from the Internet.
           Melt your chocolate, making sure not to burn it, and put it into the plastic bag.
Cut a little slant at the bottom of the bag, so that the chocolate can come out.

Tape down the printed designs on a plate and then place a piece of wax paper over the top.

Use the chocolate and trace the design.

Put the wax paper with the arms and hairs in the freezer for ten minutes.

Use the rest of the melted chocolate and draw two circles on the inside of the glasses to be Olaf's buttons.

After the cookies have finished baking, use white and black cookie frosting to decorate the cookies to look like Olaf's face.

Then take orange gummies and cut them to look like Olaf's nose.

Warm up the hot fudge and place it at the bottom of the glass.

Take two scopes of vanilla ice cream and put it into the glasses.

Top your decorated cookies with ice cream, adding the chocolate arms and hairs as finishing touches.
  In the end, you will be left with perfect little Olaf cookie sundaes.  Enjoy!