League Game Win For Boys' Tennis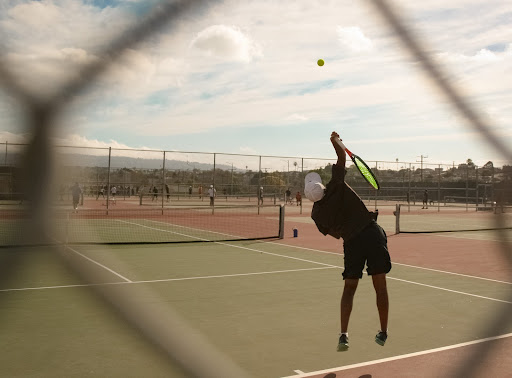 With their season now in full swing, West High's Boys' Tennis Team has been working hard to improve their skills and do well this year. On March 3, they had a game against Beverly Hills. As matches began, students waiting for their turn to play stood outside the chain-link fence and watched ongoing matches intently, cheering on their friends and watching the scores slowly go up. Who would win was unclear as the hours went by. West won a game, then lost one. They teetered back and forth until finally, all games were done and the final scores were announced.
   After a long afternoon of tense matches and close games, West took home an 11-7 win  — a great achievement after facing losses earlier in the season. This was also their first league game, so the win was a great morale booster that brought everyone one step closer to championships. 
   The team has been working incredibly hard to prepare for the rest of this season. "Every day I've been practicing, playing matches," explained Junior Varsity player Alan Bribiesca (10). "It's stressful but it's fun." Bribiesca's partner Ishank Lolge (9) reflected on their match: "It was a pretty tough matchup; definitely a lot of work to do. But we could definitely get there." Though they lost their game, neither of the players felt discouraged. They instead looked forward to future games and took note of things to work on. After long hours spent practicing together, members have built strong friendships with each other which are especially beneficial in games where communication and understanding are key. 
   There are still many more tennis games to come in the spring athletics season. "We've been practicing a long time as a team — every day, two to five. Our communication has been getting better. We're bonding together. We're stronger as a team, and yeah, I think we're ready for our league!" exclaimed Junior Varsity player Shoaib Hasnain (10). The Boys' Tennis team was off to a great start. Look forward to more wins from them as their season continues!