Athlete of the Week: Lucy Hasenmayer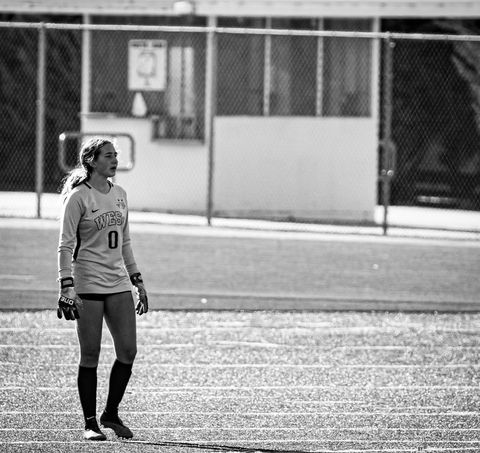 The most self-reliant position in any soccer game belongs to the goalie. It's the pressure of holding the possibility of winning or losing on your shoulders. To Lucy Hasenmayer (10), however, goalkeeping is a part of her blood. Entering the West Varsity Girls' Soccer as a freshman, Hasenmayer has been an integral part of the team, necessary to the success of every game.
   Lucy Hasenmayer began playing soccer at a young age, mostly because of the encouragement of her parents. "I hated it at first . . . but by fifth grade, I got better and I started liking it more," Hasenmayer reflected. She credits much of her success to her parents. Her mom always pushed her to play soccer because she had done the same growing up, and Hasenmayer first became interested in the position of goalie because her dad had been a goalkeeper for hockey. She found thrill in the "high" of being on a winning team, especially as a goalkeeper who got to experience a "hero moment."
   As a part of the West Girls' Soccer team, Hasenmayer contributes to each game by helping guide other players and by providing moral support. Hasenmayer explained, "It's just a part of my job . . . I can see the entire field but they can't because they're running. Some of them have good spatial awareness while others may need more help. That's where I come in." She also tries to "keep the energy up" during her games and maintains a good relationship with the rest of her team to make it a happy environment for everyone involved. In fact, fellow teammate Jacklyn Rodriguez (11) described Hasenmayer as a "hard worker" who "practices with the team every day but also works outside of soccer to bring her best to the team." According to Rodriguez, Hasenmayer "is always trying to encourage the team and is always the loudest one cheering when one of [her] teammates score a goal," and "she's always fun to be around."
   Although she has displayed talent in the sport, Hasenmayer has also struggled at times throughout her soccer career. Around October of last year, Hasenmayer broke her nose while playing, which required surgery. She faced "a mental block that [she] needed to get over after that . . . it was hard to work through but it's made [her] better." Under the support of her parents and coaches, Hasenmayer has successfully overcome her block and begun playing aggressively once again. What really took her out of her slump, however, was "taking a hit." She explained, "I knew that whatever happened, it wouldn't be as bad as before, right? And I think that's what I needed to know and what my dad had been trying to tell me." 
   In the future, Hasenmayer hopes to continue playing soccer, aiming to be recruited by colleges. Under the direction of her coaches, she hopes to improve constantly and become the best player that she can be. For now, though, she continues to support the West Girls' Soccer Team, playing to the best of her abilities for years to come.