Girls' Basketball Shoots Way to Victory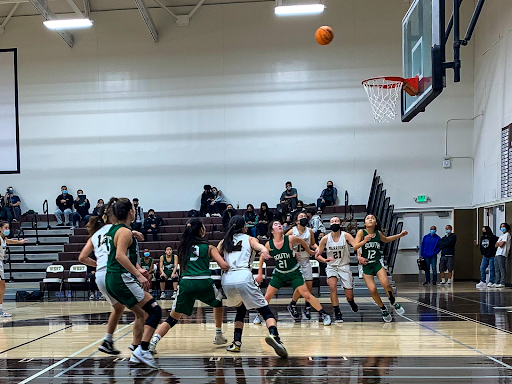 After a week of canceled games and practices due to COVID, on January 10th, West High's Varsity Girls' Basketball Team were finally able to play a game against South High. Though they didn't have much time to prepare, everyone came ready to take home another win. With an almost undefeated season last year but a win-loss tally of 8-7 so far this year, the pressure to succeed was on. 
   Things were looking tense early on in the game — it seemed like every time West scored, their opponent came back with two more. South secured a point gap and kept it going all through the first quarter. Tension filled the air as the ball went back and forth between the two teams. 
   Despite this, West pulled through in the second quarter. Dodging and shooting, they scored once. Then again. And again! By halftime, the score was equalized.
   Many setbacks have hit the Girls' Basketball Team this year. They had players test positive for COVID, two starters sent off the court with knee injuries, and more. Even though adapting to the changes has been difficult, Varsity team captain Ella Estabrook (12) explained, "It's been a lot different from past years, but I think the team has really come together and become more of a cohesive unit." 
   The clock flashed 59.00 seconds in bright red. The game was almost over, but who would take home the win was still unclear. West managed to hold a small lead against South High throughout the third and fourth quarter, but the score could change in a matter of seconds if they didn't keep their guards up. The seconds ticked down slowly. South played well in the first half of the game, but it became clear that they were losing steam. They weren't making points anymore. West pulled ahead further and further until finally, the time hit zero. The scoreboard read 55-48 — a much-deserved win!