Athlete of the Week: Cole Jacobs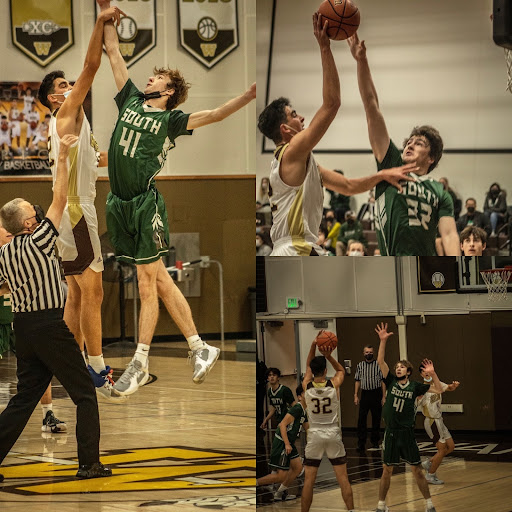 Kate Phan, Entertainment Editor
January 19, 2022
   Imagine playing basketball against someone who's a towering 6'7", extremely athletic, and has been playing the sport for more than 10 years! This is the case for players matched up with West High Boys' Varsity Basketball's Cole Jacobs (11). His drive does not make him an easy opponent. So far this season, Jacobs has an impressive record of 205 points, 195 rebounds, 48 blocks, and 21 steals. Get to know Jacobs and his relationship with basketball in this "Athlete of the Week" article.
Q: When did you start playing basketball and why did you keep playing? 
A: I started playing basketball at 3 years old. I kept playing because I remember how much I loved the whole idea of the game itself and how much I loved playing it.
Q: What position do you play and what role does that contribute to the team? What advantages does your height give you?
A: I play a forward/center for my team and my role is to — with my size and height being one of the bigger guys — bring a large presence on the court whenever I play. My height is definitely an advantage. Playing this game, a lot more opportunities come to me because of it and I try to use it as well as I can to help us win. At the end of the day, that's the goal!
Q: What is a West High basketball practice usually like? What do you try to improve on during practices?
 A: West basketball practices are very organized and competitive. We get in as much conditioning as possible while going over our plays, our defense, and often compete against one another in scrimmages and other drills. Personally, right now I'm looking to improve more on my vocal presence during our practices with directing guys if they don't know where to be or helping out as much as possible. 
Q: How do you think you've improved so far in your basketball career?
A: I think I've improved a great amount from last year to this year. I feel my game has become a little more versatile [and] athleticism has gone up a bit from the tough work we did this past summer.
Q: What are your thoughts on the relationship of the team?
A: The West team is one of the hardest working and most competitive groups I have been a part of. [They are] great guys to be around and come to practice every day looking to get better. Another reason why the team is so great is that I have a good relationship with every player on the team outside of basketball too. I feel like my bond is strong with pretty much every guy on the team which is great.
Q: Do you plan a future in basketball, and if so, how do you plan to achieve it?
A: I do plan a future with basketball in it. I am looking to play college basketball with my goal being to play the game for as long as I can. I know I need to put in a lot of work for my game as well as in the classroom, and make sure my grades are looking good.
   Jacobs is clearly an accomplished basketball player with big goals for this year and his future. His connection with his team and love for basketball has brought him impressive achievements and high respect.