Powering Through Powderpuff
   Every West student watched the football field, anticipating the main event of the winter rally: the Powderpuff Game. The Powderpuff players were split into two teams: the Trophy Wives and the Blitz Babes. Cheering for them were the manleaders, or male Seniors acting as cheerleaders, enlivening the crowd and dancing to their choreographed halftime show. 
   The manleaders had been training for the past few weeks, starting with basic stunts and cheers, eventually working their way to the top. Matthew Kim (12) and Nicholas (Nico) Villongco (12) are some of the ASB members who had decided to participate. Kim explained, "as student leaders, we wanted to be engaged in something that we look forward to throughout the year." Enthusiastically, he exclaimed,  "since we can only do it our senior year, we just decided to YOLO it and have fun with the rest of the boys." Villongco credited the cheerleaders for their role in their training, commenting on their patience and saying, "we don't do what they do every day, so we really appreciated their help." Although they were performing in front of the entire school, Kim claimed that he wasn't very nervous since "the rest of the boys [were] with [him]." Their halftime performance was a recreation of the "Jingle Bell Rock" dance from the movie Mean Girls, with additional choreography towards the end. As they danced, the crowd cheered, and the manleaders looked back at the audience, smiling.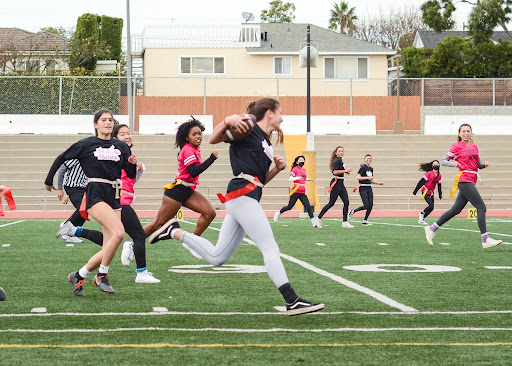 The real event of the day, though, was the Powderpuff Game, where female seniors played flag football against each other. Lilly Ramirez-Johnson (12) expressed that the fans and referees made the experience "surreal" and that she enjoyed "playing against [her] classmates in a competitive setting." In the end, the Trophy Wives won with a final score of 12-6 with a total of two touchdowns. Although it was a competitive game, Ramirez-Johnson noted that "the results didn't matter." For the players, it was more about "congratulating one another and getting to capture memories."  
   For every participating senior, the Powderpuff Game was more than winning or learning cheer. It was about creating lasting memories of senior year and enjoying the experience for the final time. The players and manleaders made the most of their time at West, making it more enjoyable for not only themselves, but everyone watching in the audience.