Athlete Spotlight: Ivy Chan on Resilience and Teamwork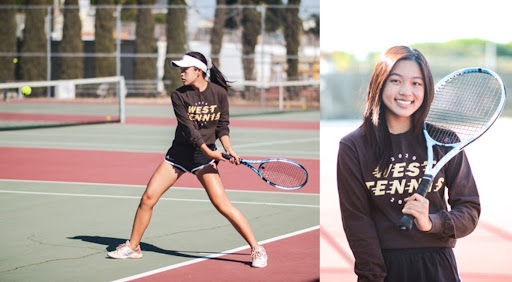 Lauren Ng, Co-Editor-in-Chief
November 13, 2021
   If an impressive skill set and persistent dedication are marks of a good athlete, Varsity Tennis player Ivy Chan (12) is an excellent one. Chan began her journey with the sport in the eighth grade and has played for West since her freshman year. She shares the lessons she has learned, as well as both the joys and challenges of her athletic experience.
   Chan's favorite aspect of tennis is its fluidity: each game is in a constant state of flux. "Being able to… rally with each other across the net is really exciting and really fun," she described. While matches may seem to follow a standard pattern, each set brings its own unique experiences: "Even when you play with the same people, it's different."
   Chan played for Junior Varsity during her freshman and sophomore years, advancing to Varsity as a junior. Coach Jin of Girls' Tennis commends Chan not only on her talent, but also on her "willingness to listen and adapt" throughout the years. He describes her now as a "senior leader" – she supports the team captains and serves as a strong role model for her fellow teammates. Varsity Tennis athlete Taeyi Ko (10), who plays doubles with Chan, noted that "she's the one who always convinces me it's gonna be okay."
   Entering her fourth and final year on the team, Chan finds the team's strong connection particularly special. "Because we're close, we give each other more encouragement, [and] we have more fun on the court together," she said. 
   As a pre-match tradition, the team always opens the cans of tennis balls together simultaneously, making rounds of high fives to establish a good mood prior to the first set. Additionally, the teammates often discuss different parts of their lives besides tennis, supporting each other off the court as well. Chan expressed, "I think we're definitely more than just a sports team. We're really like a family."
   The team shared a remarkable win this past season, coming out victorious in the annual First Serve tournament. "It didn't feel real at first," Chan remembered fondly. She takes pride in her team's momentous achievement: "It was such a fun and happy day … It was so memorable." 
   Tennis holds a balance of fun experiences and struggles for Chan. Like many athletes, Chan has faced several injuries throughout her athletic career and has felt frustrated by such hindrances. Coach Jin noted that although "every year there was some sort of obstacle," Chan did not lose faith. "She could have [been] negative … It's tough, but she's positive about it. She fought through every little thing and she had a great season," he confirmed. 
   Chan's perspective on overcoming obstacles demonstrates this mentality: "You always come across failure [and] hardships, and I think it's most important that you don't let that get to you."
   Maintaining a positive mindset has not only benefited Chan but her teammates as well. Ko describes Chan as a "stronghearted" athlete and admires her as an individual. "She's just a great person, and I really love talking to her," Ko expressed.
   Chan has persevered in the face of adversity and was free of impeding injury during the 2021 season: "Regardless of whether I've been injured or not, I've always loved the sport, and I think being injured just gives me more of the passion to want to get back onto the court when I am not able to play." Her steadfast commitment to tennis is both a testament to her passion and a symbol of her character.