Hollywood Vampires: Tributes for All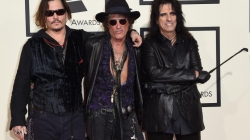 A power band. A rocking super band. Hollywood Vampires is a band that has recently formed in 2015 with frontman Alice Cooper, a rock legend. Originally Hollywood Vampires began as a drinking club with rock celebrities in the 1970s but now Cooper has taken a whole new approach with it.
Tributes are the specialty of the Hollywood Vampires. "The tribute they did for Lemmy Kilmister, from Motörhead, at the Grammy's was remarkable," said Estevan Atencio (11). The tribute began with an original from the band "As bad as I am" and cascaded into "Ace of Spades" by Motörhead. The band was introduced by Dave Grohl who also had a salute to the rock legend.
Alice Cooper is dedicated to giving the proper salute to those who made good music. For the quality of the music, he decides rock legends need proper recognition. That is the foundation that the band was founded on.
Many of modern day music is a remake of a rock classic that never got recognized. "Too many people go unrecognized for their work while others are recognized for remakes of those works," said Alyssa Hernandez (11).
Hollywood Vampires are on the verge of making rock "mainstream" again. With the use of covers from rock legends sung by a rock legend himself, music will be reinvented. Keeping the classics as it is while adding a new player, Johnny Depp, the face of rock will have a new sound to provide to fans.
"Johnny Depp is a really good actor but an even better guitar player. I watched him in a video and I was amazed by his skills," said Josh Dolan (12). Keep your eyes open for Hollywood Vampires and don't let them bite!