To the Moon, the Stars, and Torrance — West High's Astronomy Night
   As gray skies start to roll in and the winter season kicks off, West High Astronomy Night hoped to look far beyond the clouds and discover a whole new world of glittering stars, faraway planets and silvery moons. 
   Unfortunately, the weather on Friday, Dec. 2 had other plans in store; it quite literally rained on Astronomy Night's parade, rendering the night sky full of clouds that obscured any hope of sighting stars. Nonetheless, science teacher and Astronomy Night hostess Ms. Anaya found ways to make it just as special. While students took refuge from the downpour in her classroom, observed and even touched real lunar and meteorite samples shipped from NASA. 
   However, due to the rain, Mrs. Anaya mourned that students and attendees could not learn how to adequately work a telescope, an instrument that much of humanity once relied upon, but had been rendered almost obsolete by the current era's technological advancements. "I really wanted kids to have those skills to navigate telescopes and actually see the stars and know what was happening," she explained. "This is a skill that's been around ever since the dawn of time — it's how we navigated the seas and created calendars." 
   Unfortunately, the weather wasn't the only thing obscuring the sky's array of stars — the consequences of excessive light pollution has had visible effects on densely populated city like Torrance as well.  
   Despite the unfortunate weather, there were many other unique activities hosted. At a station directed by Geovanni Somoza, President of the L.A. Astronomy Society attendees could write postcards to people of their choice, or — as most people had chosen — themselves. "This will actually fly on the next rocket when it comes back to Earth. It'll get certified as having been flown in space!" he laughed. "We want to be able to say that something we own has actually been to outer space," he added.
   Postcards and lunar samples weren't the only things on display for attendees. Lunar soil taken directly from the Moon were set out along with the array of lunar rocks and meteorite samples. Interestingly enough, lunar soil had actually initially deterred NASA from sending astronauts to the Moon. Being a fine powder, Ms. Anaya said, "They thought that it might actually sink like quicksand, and we would never actually know the real story. After all, they'd never been there before, right?" Luckily, it didn't happen, and astronauts on Apollo 11 found that there were these rocks on the Moon. 
   In addition to the lunar samples on display, meteorite samples from as far as another continent to northwest America were showcased for viewers to see. Although they were 4.5 billion years old, they looked to be in perfect condition. "NASA sent this one from Africa, and this one had fallen from Kansas. You can see the different composition of each sample," she stated, tracing her finger over the various veins of metal and other substances that make up the sample. Bright bits of iron provide a stark contrast to the dark gray, black-speckled rock on the thumbnail-sized chip of meteorite, veins of silver spinning a thin metallic web through the meteorite sample. 
   Although the weather may have interrupted Astronomy Night's original plans, it was still a magical night for all attendees. Ms. Anaya's persistence and determination had made all efforts worthwhile. 
About the Contributor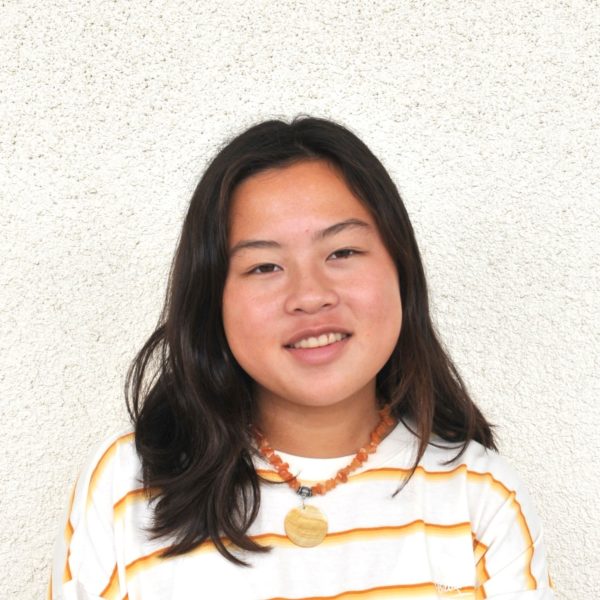 Natalie Ou, Sports Editor
Natalie Ou is a junior at West, currently serving her second year on
West Signals
as Sports Editor. As a first-year editor, she aims to write articles with clarity and conviction, believing that journalism is one of the greatest ways to give students a voice through writing. In her free time, Natalie enjoys all water-related activities, hand lettering, and trying out new culinary destinations (unfortunately, she usually finds herself in the financial predicament common to many broke teenagers and relies on her brother to foot the bill).