Tutoring with Tutorial Club and National Honor Society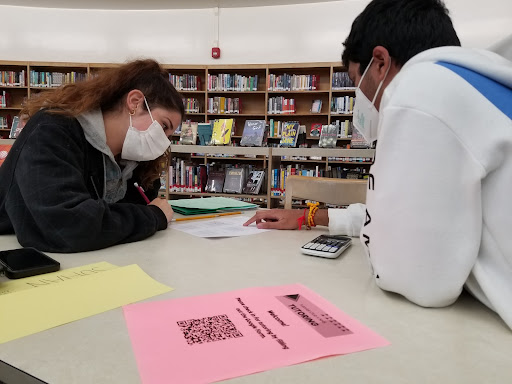 Community should be a group of people who support and help each other in times of need. Luckily, West High's community is always willing to step up to that challenge. In the coming weeks, National Honor Society (NHS) will be partnering with Tutorial Club to tutor any West student needing help. Under the direction of Ms. Daisy Kim and Ms. Stefanie Eriksen, these tutors will help struggling students succeed. 
   Opportunity Teacher Ms. Eriksen and Intervention Coordinator Ms. Kim head programs that give each student, no matter their strengths and weaknesses, a chance. Ms. Kim explained, "While we all try to create spaces and experiences for all of our students to empower themselves as learners in our classrooms, the reality is that a one size fits all approach does not work for everyone." To Ms. Kim, peer tutoring "provides a more targeted approach that fits individual needs." Similarly, Ms. Eriksen noted that she learned from students in her classes that many of them were unable to get the help they needed. NHS and Tutorial Club can make tutoring more accessible for West students.
   This collaboration will be an expanded version of what Tutorial Club already does. According to Morgan Tan (9), a Tutorial Club member, this collaboration will give more publicity and "foot traffic" to the work that they have already been doing. Tan hopes that this event will "let people know that [the club is] there" and will even help tutors "exercise their skills." Unlike the more "laid back" structure of Tutorial Club's usual programs where students can walk into the library during lunch or after school whenever they need help, teachers will be recommending and assigning students to receive tutoring. Those who enjoy or benefit from the experience can continue to get help in the future. 
   For NHS member Shrutika Ezhil (12), this event is about more than helping students who struggle in their classes. She explained that the program worked to help students earn the credits they need to graduate and to lift the burden off the teachers who usually take on extra work to help students. Ezhil described NHS as a service club that "held students to a higher standard for academics and community responsibility" and often worked on more "West-centered" service events. The overlap between the two clubs in their purpose and membership made the collaboration easy. This was also very similar to the online events that NHS has held in the past (such as helping students sign up for classes), so it was the perfect program for any member trying to get more involved.
   It's not very often that we get to make a real difference in our community, but we should always take that chance when it is offered to us. Tutorial Club and NHS will be making West a better school for both teachers and students. As Ms. Kim put it, this program will be "cultivating an environment of care where the West High School community can develop and demonstrate the Way of the Warrior: Creativity, Character, and Resilience." 
   Help is available every day during lunch and after school. Tutoring is open to anyone who walks through the library doors, so don't be afraid to visit. For students interested in helping,  join Tutorial Club to make an important change in our community!