Candidates' Campaigns For ASB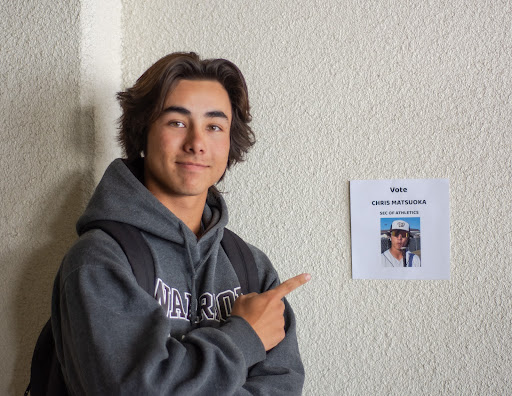 Behind all of the rallies, dances, and fun events at school is West High's Associated Student Body (ASB), who work hard all year long to make the school year worthwhile! Recently, ASB ran their annual elections to determine who'll be in charge of the entertaining events of the upcoming 2022-2023 school year.
ASB Elections
   Allison Tsai (11) will be next year's ASB President. Tsai shared her plans to "make [the year] a lot more fun," with "scavenger hunts and interactive rallies." She added, "Now that things are seemingly going back to normal, there are many more in-person events we can plan." Tsai also mentioned that she wants to "bring more recognition to the sports that feel overlooked. Swim and Waterpolo, for example, have an extra hard time being away from the school and I hope we can show them just as much support as other sports next year." 
   The ASB Vice President will be Gaby Nieraeth (11). Nieraeth "hopes to have a spring dance," and is "really excited for this coming year and can't wait to work with Allison again," who she has been working with in ASB for four years.
   Other positions that ASB offered to campaign were Secretary of Fine Arts, who will be Julia Araujo (11). Running for Secretary of Athletics were Christopher Matsuoka (11), Kendall Oda (11),  and Jonathan Valot (10). For Valot's campaign, he posted adamantly on social media and printed posters to tape around campus. After a close election, Valot will be the Secretary of Athletics next year.
   In ASB, each class can vote for representatives to participate, share, and vote on ASB's decisions. Next year's Senior President will be Aaliyah Martinez (11) and Senior Vice President will be Molly Paulson (11), who both ran unopposed. The upcoming Junior class will have Micah Taw (10) as next year's Junior President, and Karsen-Reese Takenaka (10) as Junior Vice President. There were three candidates running for next year's Sophomore President: Cameron Merendo (9), Alexis Lee (9), and Angie Quiroz (9) who is one of the current Freshman Co-Presidents. Hannah Takasaki (9) will be next year's Sophomore Vice President to Quiroz who won the election for President. 
   As a candidate, Merendo admitted,  "Campaigning has been sort of stressful with wanting all of my posters to look nice and neat while also looking fun so students would want to look at them." Her main goal as next year's Sophomore president was "to make sure everyone in my grade knows all of the information all year round and everyone is aware of upcoming events and spirit days," and "to keep the spirit in my class because this year I've noticed a lot of energy and participation that I love and want everyone to have all throughout high school." Although Quiroz will be Sophomore President next year, Merendo was grateful for the opportunity to run.
   As for the ASB representatives of the Freshmen class next year, both West Torrance middle schools will run elections to determine the incoming Freshman Co-Presidents— one from Bert Lynn and the other from Jefferson. 
ASB Interview Candidates
   ASB also runs interviews to choose students to run special positions. The next Secretary of Business will be Kai Alexander (11). Secretary of Correspondence is Jaden Mooney (11). Secretary of ICC, who is in charge of organizing the clubs at West High, will be Abigail Sucup (11). The Secretary of Multimedia for ASB's media output will be Kyungsan Kim (9). Secretary of Communications is Kate Amano (11) and Secretary of Publicity is Milani Vo (10). And last but not least, Matthew Rochford (11) will be next year's Secretary of Spirit for ASB events. 
   The class historians who document school events are also chosen through election. For Seniors, class historian will be Kieffer Castro (11). The Junior historian will be Chloe Kang (10) and the Sophomore historian will be Sriya Sthothrbhashyam (9). With so many diverse positions next year, ASB is sure to have a great year!