Sustainable Shopping: Enviro Club's Yard Sales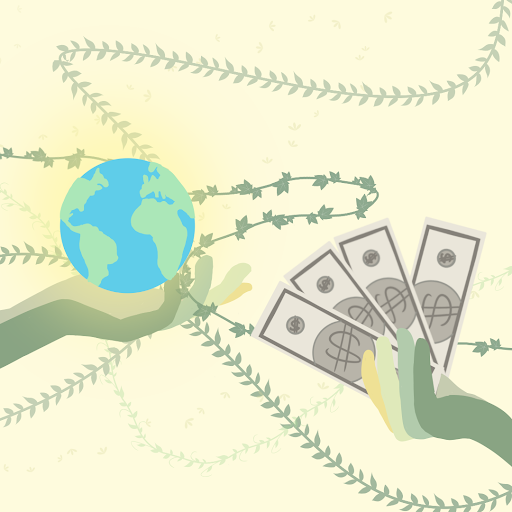 Fashion has always been a huge part of cultures worldwide. With trends being phased out as quickly as they came, there's always a worldwide desire to buy new clothes. However, clothing production carries a long list of environmentally harmful practices. On March 11 and 26, West High's Enviro Club hoped to fulfill students' shopping crazes in an eco-friendly fashion.
   Enviro Club Co-Event Coordinator Jonathan Sleeman (11) detailed the drawbacks of the fashion industry: "The production of clothes uses lots of water, releases lots of greenhouse gasses, pollutes ecosystems, and makes materials such as polyester that are not biodegradable and can later become microplastics." By buying new, factory-produced clothes, we indirectly encourage further harmful clothing production. Sleeman and fellow Enviro Club members hoped to reduce the environmental impacts of fashion by holding a yard sale. "Buying these clothes replaces one's otherwise buying of new clothes," Sleeman explained. Not only does buying from yard sales help the environment by reducing the purchase of newly produced clothing, but hosting yard sales has other environmental benefits as well; Rather than being thrown away and eventually landfilled, clothes are reused and repurposed by another owner.
   Prior to the yard sales, Enviro Club members made lots of preparations including publicizing, and gathering donations. Clothing, jewelry, and shoes sold during the yard sale were donations from club members as well as other West High students and staff. 
   Enviro Club's yard sales took place outside of the school's entrance. Tables were set up by club members, and were full of clothes of different styles. Enviro Club Co-Event Coordinator Rithika Yalla (10) recalled, "There was definitely a much better turnout than expected. The whole scene was really hectic with people constantly coming and checking out all the items on sale."
   Enviro Club member Mariam Kaid (12) volunteered to work two shifts for the yard sale. First, Kaid helped set up tables and organize clothing. Then, Kaid ran the accessories and shoes section of the sale. "The most fun thing about volunteering is the time I spend working with my friends, especially seeing that what I'm working on is actually benefiting a bigger cause," Kaid expressed.
   After two successful yard sales, Enviro Club wrapped up the event for the school year. "While we don't plan on hosting another yard sale this year, we may have them in following years!" Sleeman added.