Remembering Conner Kurahashi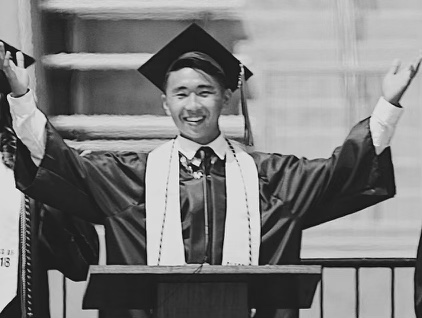 Lauren Ng, Sports & Opinion Editor
March 17, 2022
   Among West High's various successes of the past few years, Conner Kurahashi is at the heart of several of them. A senior studying urban development at Cal Poly Pomona, Kurahashi graduated from West High in 2018, leaving a lasting legacy as an inspiring leader, student, and friend. He was just 22 years old when he passed away on January 23 from a car accident. 
   On February 19, hundreds of Kurahashi's friends and family attended a heartfelt memorial for him at West High's Performing Arts Center, sharing their fondest memories and reflecting on Kurahashi's powerful impact on his school community.
   Kurahashi was a diligent member of West's Associated Student Body (ASB) throughout his four years of high school: he was class historian during his freshman and sophomore years, then became junior class president and ASB president in his senior year. ASB Adviser and West High Activities Director Mrs. Eriksen, who worked closely with Kurahashi, remembers him as a dedicated hard worker: "He really would do anything for ASB. He was one of those kids who, along with good work ethic, had good follow through."
   Perhaps one of Kurahashi's greatest school accomplishments was his direction of West High's 2018 YouTube Lip Dub during his senior year. Crafting the final product was no easy feat: in addition to editing video footage and taking drone shots of the school, Kurahashi had to coordinate the lip sync with every organization on campus. But with the help of others, he got the job done: "He was very organized, hardworking, and just had that commitment to making it happen," Mrs. Eriksen said. "He was the only person that could really pull it off."
   Kurahashi and Mrs. Eriksen also worked together to begin ASB's tradition of holding class council during third period. According to Mrs. Eriksen, the council includes five to seven student representatives from each grade who work with their class officers on school decorations and class events. Always devoted to his responsibilities, Kurahashi joined third period during his senior year to ensure a smooth transition for this new addition to ASB.
   On a day-to-day basis, Kurahashi was "pretty business-forward," Mrs. Eriksen described. "But he also had a really solid group of friends that he hung out with every day." As freshman and sophomore class historian, Kurahashi enjoyed taking pictures at school basketball games, in which many of his friends played. Mrs. Eriksen noted that "even after he graduated, he'd come back and take pictures . . . he always just had West High in his heart."
   Kurahashi was also a cross country and track runner throughout high school. Coach Druten remembers him as "a really good teammate . . . He was never negative . . . He just made our team a better place to be around." 
   Current freshman coach Ike Tamanaha ran cross country at West with Kurahashi, fondly recalling his "sunny personality."  Tamanaha noted that running all four years is "a very hard thing to do," and not something that many high school athletes accomplish. In addition to being a dedicated runner, Kurahashi was "always smiling" and "always someone who was energetic."
   Further, Tamanaha remembers Kurahashi as an honest and genuine person. He recalled one day at practice when Kurahashi reflected upon some of his regrets, as well as the sense of accomplishment he gained by improving himself. "That really humbled me," Tamanaha recognized. "I definitely didn't see that side of him often, and when I did, it meant a lot to me."
   Kurahashi's legacy exhibits itself through not only his numerous contributions to West High, but also on a smaller scale: he provided a bright light of positivity, diligence, and inspiration that continues to shine in the hearts of many.