BTS: Making History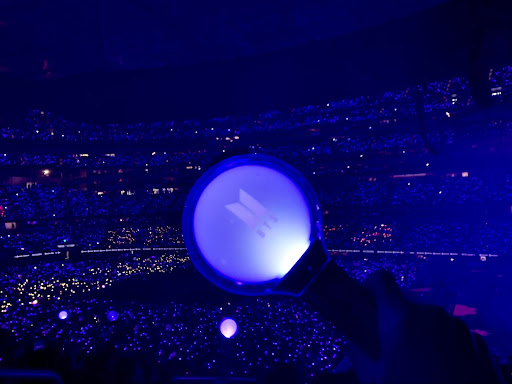 After two long years, BTS finally came back to Los Angeles to perform live in concert. On November 27-28 and December 1-2, SoFi Stadium was filled with thousands of people cheering, laughing, singing, and dancing. Fans who had been waiting for years finally got a chance to meet their favorite K-pop group in person. 
   Although the pandemic continues, concerts with large crowds have begun to open up again. The most notable of these shows in LA have been from BTS's "Permission to Dance" tour and Harry Styles's "Love On" tour. Many performance centers, including the SoFi Stadium, updated COVID restrictions to accommodate performers and fans in the audience. The SoFi stadium maintained mask mandates for all attendees and required either a proof of vaccination or a negative COVID test from the past 72 hours to enter. 
   As the largest K-pop group in the world, BTS is known for their larger-than-life concerts, with intense crowd engagement from passionate fans. Ivy Chan (12) was one of the many fans in the crowd. Chan remarked about the intensity of the audience, "I think it was the first concert since the pandemic started for a lot of people, so there was a lot of energy that night. Everyone was just having fun." There was more that contributed to the crowd's raised spirits than just good music, though. BTS is more than just another boy band. It has become a cultural phenomenon, making history and representing Asian people globally. 
   As the COVID-19 pandemic developed, rates of Asian hate crimes rose across the United States. Faulted for the virus, Asian people had been targets of casual racism. But Asian hate did not originate in the pandemic. For decades, being Asian or simply taking part in Asian culture was something to be ashamed of. Kids at school would get picked on for liking anime or K-pop. BTS became the cornerstone for change in the world's perception of Asian entertainment and media. As their fan base and presence in Western entertainment grew, so did the world's interest in Asian (and especially Korean) cultures. As the president of Korean Culture Club, Chan explained, "BTS has broken the typical Asian stereotypes that a lot of people used to believe in. It's so amazing to see how their influence has opened the U.S. to so many more aspects of Korean culture while also shining the light on other Asian cultures as well." 
   Korean language teacher Mrs. Lee asks her students at the beginning of every school year about the reason they chose to learn Korean. Over time, she not only found her class becoming more diverse, but discovered that many of her students wanted to learn the language in order to "sing along to [Korean] songs" or to be able to "watch K-dramas without captions." In other words, more students wanted to learn Korean to better appreciate the culture. Mrs. Lee also recognized BTS's performance at the United Nations conference and their achievements at the American Music Awards 2021 (AMAs), especially highlighting their win of the top award of the night: Artist of the Year. In fact, BTS was the first Asian group to ever win the award in the AMAs. "I'm so proud of them," Mrs. Lee said, smiling. "They're a positive influence on the nation and to everybody in the world; it's just so great."
   Looking at the influence of BTS in the past year alone, there is no doubt that they will continue to make history and change the world in years to come. Whether through concerts, awards, or other performances, fans anticipate the impact that the group will continue to make as the future unfolds.