West High Entertainment Unit Wins First Competition of the Season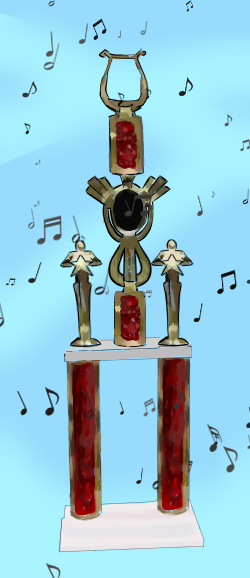 Bright and early, the West High Band fills the campus with the beautiful sound of their practice. Aside from welcoming students to their classes for the day, the band has also been spending their mornings improving their playing and perfecting their performances. At Baldwin Park High School on October 24, this hard work paid off in their victory at the first competition of the season.
   In addition to this competition being the first of the season, it's also the first competition since the infamous COVID-19 shutdown. Last school year, band practice was a bit of a struggle for the performers. With microphones muted due to sound delays and potential technical difficulties over Zoom classes, students practiced their instruments individually, preventing the band from playing pieces together. Resuming competition season required practicing with unified sound. This year the West High Entertainment Unit rejoiced as they made the return to in-person practices, allowing them to play together. 
   Band president and woodwind captain, Ayane Kawanishi (12) noted that because of the quarantine break, "[band] has two grade levels worth of students that don't have previous experience," making it a little difficult at first. However, Kawanishi explained further that "everyone has been very fast at learning and improving every day."
   This year marks the start of in-person band practices and competitions for Sophomores and Freshmen alike. For the underclassmen, the first competition was one full of nerves, especially for tuba player Yumiko Kasai (10). This was Kasai's first band competition with West, filling the night with first-show freight. But to her surprise, the band brought home the win at not only the first competition of the season, but the first competition since a home-ridden school year. "I was really nervous, but a lot of us have been practicing really hard and putting in so much effort. I knew we were going to do the best we could," Kasai stated. 
    The West High band is in Division 6A, meaning they perform much later in the event. Prior to performing, band members nervously practiced, perfecting as much of their pieces as they could before the big moment. Though the players had low expectations of placing, they still aimed to do their best.
   Finally, the West High Entertainment Unit's performance of an arrangement titled "Reflection" earned first place in the division and second place overall in percussion, kicking off the start of a great competition season.