I Scream, You Scream, We All Scream for -8℃ Ice Cream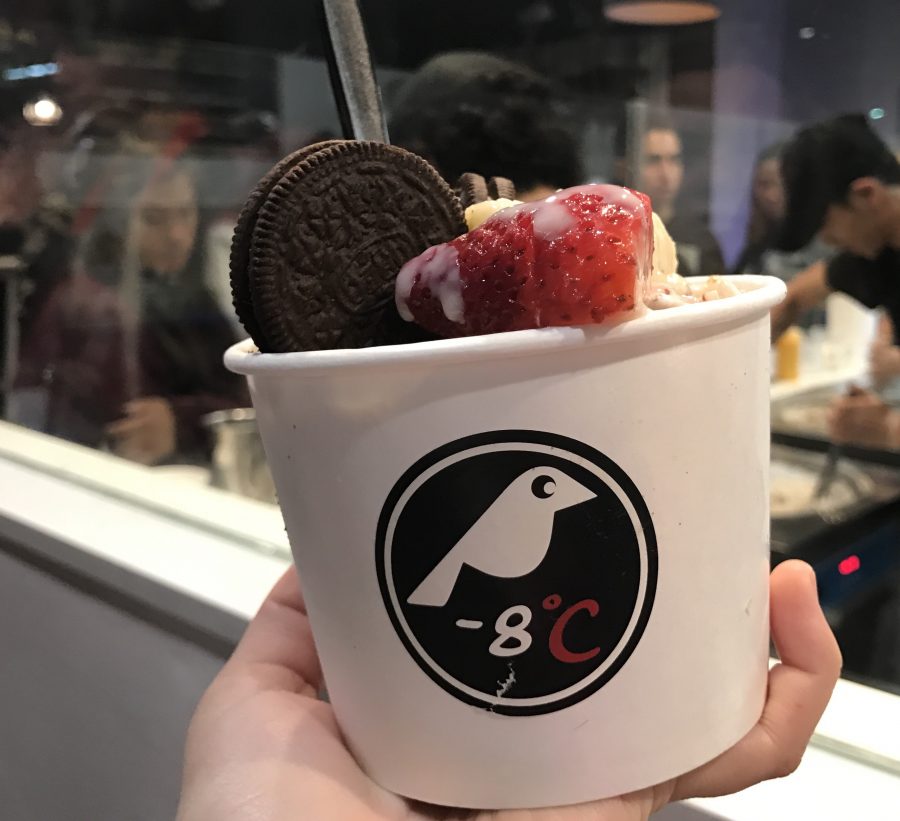 Gardena, California just got a whole lot sweeter with the opening of -8℃ Ice Cream. The new parlor invites customers to taste its uniquely fresh ice cream.
  This isn't your typical scoop of ice cream. -8℃ Ice Cream breaks the traditional role of the frozen dessert by frying the slurry to freeze and rolling it up. The concept of rolled ice cream derives from Thailand and to top it off, they offer unlimited toppings to add onto the treat.
  What makes this concept so unique is how the skilled workers prepare the slurry: they add the base ingredient first. For instance, their most popular flavor is "Oreo Land" so the base ingredient for this flavor are oreos.
  After a worker places the base ingredient on a steel surface at the temperature of -8℃, they pour the cream base on top.
  Although the parlor barely opened in early January, it already has regulars, one of them being Dominique Dungca (11). She said, "When we got there, instead of scooping ice cream, they rolled it; it was something I had never seen before. From then on, I have been completely infatuated with the way they make ice cream. I am so in love that I go every other week or so with friends."
  Another ice cream enthusiast, Amanda Villalva (11), said, "Although the line is huge, it is worth it. It moves fast, however it does get cramped because it is a tiny spot. Overall, the scene is great. Awesome music, friendly workers and delicious ice cream."
  If you aren't craving rolled ice cream, they also offer homemade scooped ice cream. A traditional scooped ice cream lover, Hannah Hymovitz (10) said, "The regular ice cream is also super yummy. They offer unlimited toppings on that ice cream option as well, which is a plus."
  The parlor offers customers a range of tasty, creative ice cream flavors made from fresh ingredients like strawberries, bananas, mangoes, Nutella, etc. The wide selection of ice cream flavors complement each other nicely, coming together to create the ultimate ice cream experience for adults and children.
  -8℃ Ice Cream is located at 1630 W Redondo Beach Blvd, Gardena, CA and is open daily from 11:45 pm to 11:00 pm and 12:00 on Friday and Saturday. Prices range from $3.50 to $7.