Chicago's Late Nights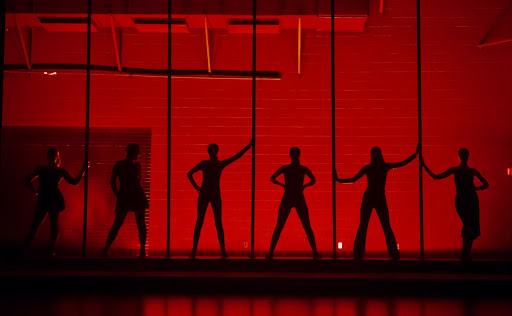 Full of murder, scandal, and stardom, Chicago is an elaborate show of light cues, sound cues, and, of course, the golden trio of phenomenal singing, dancing, and acting. After nearly three months of rehearsals, Chicago entered their tech week: a long week of late nights until 9 p.m. that included putting the set, lights, sound cues, microphones, and costumes together that made Chicago a true West High musical!
   West High returned to the musical season with a bang, especially since the last musical was the ever-popular Avenue Q. What better way to achieve that goal than the two "T's" ― talent and technology?
   Jeremy Born (9), participating in a West High musical for the first time, emphasized that tech week involved two things: patience and bonding. Born said, "compared to Puffs, [the fall play], Chicago's tech week had been moving much slower since people had to do lots of standing around for the lights to be in the right place for the show." Giving insight into the process of tech rehearsals, Born explained, "Every spotlight has to be in the right place, same with every sound cue."
   Playing Roxie Hart, Mia Gibson (11), arguably had one of the hardest scenes to play: The Courtroom. In the courtroom, Gibson has to adhere to and adjust the timing of over a dozen different soundtracks. In Gibson's opinion, "the Courtroom scene was the hardest thing to tech because of all the specific light cues and sound cues that match with every line." 
   From Julia Araujo's (11) point of view, tech week was "stressful because the sound cues changed so often and [she] had trouble with the timing of [her] monologue in Cell Block Tango." Araujo plays Hunyak, who speaks in Hungarian, so she also had to learn a paragraph in an unknown language, as well as get her speech to match the timing of a preset track. 
   To conclude the process, Gibson noted that, although long, tech week was necessary to truly bring the show together and she is so proud of what the Theater Department has been able to accomplish. She expressed, "I'm so grateful to be a part of an amazing cast and show this year."