Andi Mack Features LGBT Character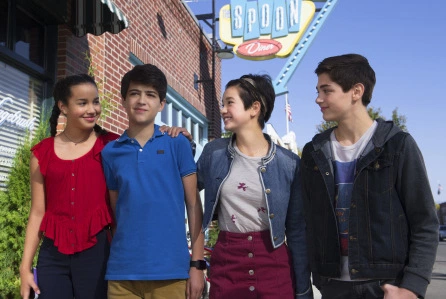 On October 27, Season Two of tween sitcom Andi Mack premiered, including Disney Channel's first coming out storyline.
  The series features Andi Mack (Peyton Elizabeth Lee) as she struggles with both daily middle-school drama and the revelation that her sister is actually her mother.
  The series is famed for talking about complex and deeper topics as compared to most other children's television shows and its diverse cast. The show has decided to add even more diversity to its cast by including Disney Channel's first gay character, Cyrus, portrayed by Joshua Rush.
  Cyrus is Andi's best friend from childhood and realizes in the season two premiere that he has feelings for classmate Jonah, who is also Andi's crush. He confesses his feelings and sexuality to close friend Buffy and the rest of season two will feature his journey to confront his newfound sexuality.
  The series has faced a lot of criticism for including an LGBTQ character and has received a lot of negative comments because of it. Many in the Christian community are horrified by the episode; some, like Reverend Franklin Graham, says it promotes immoral ideas that go against Christian beliefs.
  In addition, the series has been banned from Kenya, a country already famous for anti-gay sentiments and laws. Kenya Film Classification Board head Ezekiel Mutua offered a harsh critique of the show saying, "homosexuality goes against the collective and values of the people of Kenya."
  Student Irene Lee(10) also believes that the show is too controversial and says, "I think that we should wait because people, especially young children may get confused about their identity."
  The series has also received many positive reviews for making the decision to have an openly gay character. Ratings also surged for the premiers, with an increase of almost 72% making it the most-watched children's TV show of its timeslot.
  Aaron Thomas(10) agrees that this was a positive move saying, "I am surprised that Disney made this move, but I do think that it is necessary. Children need to know about complex topics like this from a credible source, so they understand what they're actually about."
  Disney's decision to feature a coming-out storyline has been met with mixed opinions, but it is still a big step in a new direction for the company. Hopefully, others will follow in Disney's footsteps and more networks will begin to feature diverse storylines featuring underrepresented characters.