In Times of Despair… We Eat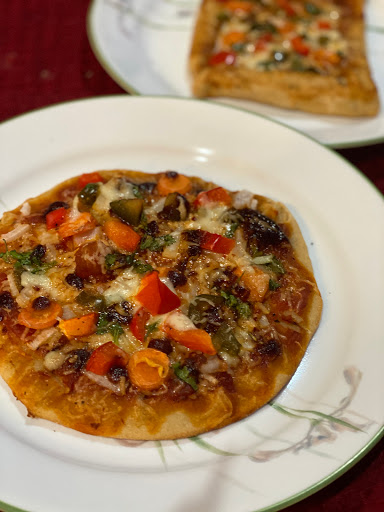 In response to the growing spread of the Coronavirus, California schools are now closed until the next school year. For seniors, this means no prom, no graduation, no decision day, and no time with friends for the last three months of high-school. While social distancing and self-quarantine are absolutely necessary to keep the virus from growing worse, it is still a time of adjustment and sadness. And to cope, what better way then to make tasty comfort food with ingredients you hopefully have in stock. Make the most of the corona-tine by trying your hand at these three recipes:
Pancakes
Ingredients:
1 1/2 cups all-purpose flour

3 1/2 teaspoons baking powder

1 teaspoon salt

1 tablespoon white sugar

1 1/4 cups milk

1 egg

3 tablespoons butter, melted
Directions:
In a large bowl, sift together the flour, baking powder, salt, and sugar. Make a well in the center and pour in the milk, egg and melted butter; mix until smooth.

Heat a lightly oiled griddle or frying pan over medium-high heat. Pour or scoop the batter onto the griddle, using approximately 1/4 cup for each pancake. Brown on both sides.

Serve with your choice of fruits, syrup, whipped cream, or butter.

Have a pancake breakfast party with the whole family.
Pizza Dough
Ingredients: 
3 cups all-purpose flour

1 (.25 ounce) package of active dry yeast

2 tablespoons vegetable oil

1 tablespoon salt

1 tablespoon white sugar

1 cup of warm water 
Directions:
Preheat your oven to 375F.

Combine the yeast, sugar, and water in a bowl and allow to rest for 10-15 minutes

Combine the flour, salt, oil, and yeast mixture in a large bowl. Stir until you get a sticky ball.

Drizzle a bowl with olive oil and cover the dough in it the rest for about 30 minutes.

Roll out the pizza dough to your desired shape and top with preferred sauces, cheese, and toppings.

Bake for 20 to 25 minutes or until golden brown.

Listen to some music or watch a movie while you enjoy your homemade pizza!
Chocolate Chip Cookies
½ cup granulated sugar

¾ cup brown sugar, packed

1 teaspoon salt

½ cup unsalted butter, melted

1 egg

1 teaspoon vanilla extract

1 ¼ cups all-purpose flour

½ teaspoon baking soda

4 oz milk or semi-sweet chocolate chunks

4 oz dark chocolate chunk
Directions:
In a large bowl, whisk together the sugars, salt, and butter until a paste forms with no lumps.

Whisk in the egg and vanilla

Sift in the flour and baking soda, then fold the mixture with a spatula. Don't overmix.

Fold in the chocolate chunks, then chill the dough for at least 30 minutes. 

Preheat the oven to 350°F. Line a baking sheet with parchment paper.

Scoop the dough with an ice-cream scoop onto a parchment paper-lined baking sheet, leaving space between cookies. 

Bake for 12-15 minutes, or until the edges have started to brown. Cool completely before serving.

Whenever you feel sad, happy, or anything at all, grab a cookie and live your best life.
   While the virus might have taken away our ability to move about freely and talk to people face to face, it also has given us an excess of a scarce commodity: time. So, bake, cook, eat, exercise, watch some movies, don't stress, stay inside, and have some fun!