Feelin' the Rush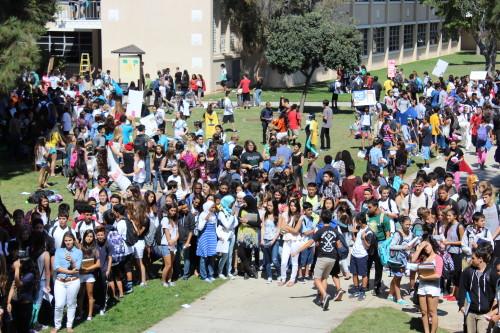 In order for students to truly undergo the high school experience, they must actively participate in their high schools; and joining clubs are a perfect example of active participation. Club Rush was held on Wednesday, September 18, 2013, at West High School. Club Rush is exactly what it sounds like—a day when clubs get to represent and advertise themselves to the rest of the students at the school all in the time frame of 35 minutes during lunch. It gives board members and club members the opportunity to spread the word about their clubs, along with those who are trying to make new ones.
  Each club sets up its own booth at the grass area in front of building three with posters and signs to attract crowds of students to the club's designated area. A good chunk of the student body sacrifices the only time they have throughout the school day to relax and eat in order to prepare for and invest their time participating in this busy event. A sea of kids moving towards building three can be seen from afar during lunch. Hundreds of people are clumped together in a tight space crowding around different booths as flyers are handed. A majority of those who ran these booths were decked out in clothes and accessories that repped the club they supported. For example, Amie Fung, a senior who is a part of Key Club, represented her club by wearing a large one-piece rabbit costume. Many Red Cross members were decked out in red and almost all the clubs that had club shirts wore them, including CSF, UNICEF, The Tribe, and much more.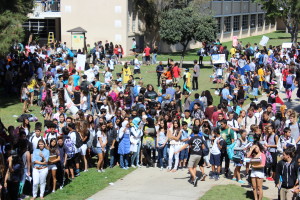 Club Rush does serve a good purpose but because it is such a chaotic event, people have different opinions regarding it. Soshi Suzuki (12) said, "I like the fact that Club Rush is covered in such a short amount of time because it would get boring if it was too long." Suzuki likes the "rush" in Club Rush and there are others that agree with him. Robert Kim (11) believes that "Club Rush is a quick and easy way for clubs to publicize themselves to other students. If West High decided to use another method, like through announcements from the speaker or during class time, a lot of people will doze off and not pay attention because it will get boring. Club Rush is exciting and gives kids the opportunity to actually see a little glimpse of what all the different clubs on campus are like for themselves." Kim states that many others will agree on. Dan Iwanaga (11) stated, "I do not like how club members pass out fliers to everyone. It is a waste of paper because the students are only interested in some of the clubs, not all of them. Fliers should be given to those who want them." Iwanaga definitely states a good point and maybe adjustments can be made in the future.
  Club Rush is an event that has been taking place for plenty of years at West High School. It is a fast way for clubs to spread the word about themselves to the student body. Many people enjoy Club Rush and think it is an efficient way for others to learn more about the clubs offered at West. Others believe changes can be made; but the fact remains that Club Rush is here to stay.