Spotlight: Student Sweethearts at West
March 2, 2023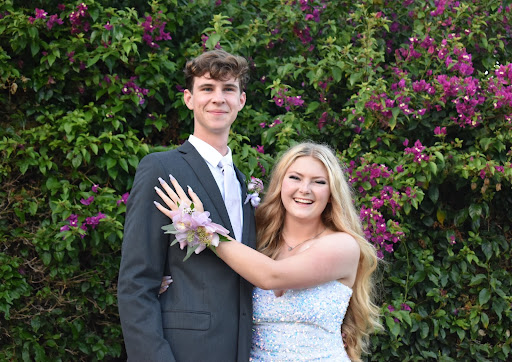 The season of love isn't limited to the month of February – all year long, student life is dotted with couple ship names and the occasional relationship drama. But for longtime couples, the seasonal sentiment is year-round. 
   West High student couple Jason Huffstutter (12) and Claire Perry (12), who will soon be celebrating their two-year anniversary, first connected in English 2 Honors a few weeks before the shift to virtual learning. "We would have breakout rooms and get to talk to each other, and eventually we started hanging out outside of school," Huffstutter recounted. By chance, they started chatting "right before Valentine's Day," according to Perry.
   For Perry, the best part of being in a relationship is how open she can be. "I always have somebody to talk to about my problems, or even just small things like how my day is going," she explained. Huffstutter agreed, admiring how "she's such a great person, and I feel like she's helped our relationship and myself as a person grow more positively." His optimism was shared by Perry, who expressed how his playful comedic timing and good judgment helped her see the positive side of things even when times were challenging. "He has a really great sense of humor, but he's also really smart — he helps me a lot, and it's always nice to have someone who can make you laugh."  
   Quality time is one of the most essential aspects of a relationship, and for Perry and Huffstutter, it means quality time over quantity. According to Huffstutter, time together is something to always look forward to because of the fresh memories created. "It's fun to eat, explore, and just go out to try new things in general," he reflected. 
   Perry emphasized the importance of communication, naming trust as the building block of any relationship. "You really have to talk through whatever problems you might have, and be open with your partner about how you're feeling," she emphasized. "Honesty is the best policy," Huffstutter chimed in.