Leading Solo: Cheering on Eva Reyes
   Senior year is a coveted time that many students across West High eagerly look forward to. From grabbing the best seats at class competitions to extravagant prom dances, senior year is a breath of fresh air for many. 
   However, senior year signified a new chapter of hard work for athlete Eva Reyes (12). Not only is she West High's Cheer captain, but she is also the sole senior on the team. 
   The role of leadership isn't an easy one, especially in such a communication-heavy sport like cheerleading, which requires both stamina and coordination to pull off difficult stunts and be in sync with the rest of the team. Despite the obstacles, Reyes is determined to be the best leader she can be for the team and is honored to be in her position. "Since captains are voted upon, it's really special to me that they trust me to lead them," Reyes expressed. She further explained that the role of captain provided certain expectations for how she should lead, as exemplified by her predecessors before her. However, as cheerleading is a popular sport on campus, there are many people who need a helping hand: Sometimes, Reyes found it slightly overwhelming. "For many of the underclassmen, a lot of them look up to the older players to help them, but it's kind of hard. There's so many of them, and there's only one of me," Reyes described sadly. In spite of this challenge, she aims to create a friendly environment that all of her teammates can prosper in. From offering advice to newcomers on the team to creating a warm, inviting atmosphere where questions are encouraged, Reyes makes the best effort possible to guide her teammates through any obstacles in their way. Coach Rooney also weighed in on Reyes' leadership role: "She's been a captain now for two years. The girls trust her and look to her to guide them, and so I think it's been great having her," she explained. 
   Being a leader with the responsibility of coordination with coaches, parents, and fellow students alike can be exhausting — as captain of the cheerleading team, Reyes helps oversee the team's performances in games, school rallies, competitions, and more. The difficulty of these jobs is even more apparent for Reyes, who lacks a senior counterpart with the same level of experience to lean on. "I don't mind being the only one, but I do wish I had another person there so I could go through my senior season with someone else," she admitted. Having a supportive team by her side makes it easier for her to overcome these obstacles. "I feel like everyone on the team understands the feeling of loneliness and they're always there for me as well," she stated. 
    While hardship and tough moments are a part of any sport, Reyes adores cheer in its entirety: "I kind of just love everything about it. I've been doing cheer for 14 years, so it's kind of hard to just say the little things of what I like about it — I love it as a whole and everything that comes with it," she beamed. 
   Despite the responsibilities and efforts she's delegated to cheer over her high school career — along with pauses due to quarantine — Reyes is determined to make her remaining time on campus the best it can be. "Get the most out of your high school experience as you can. There were things I wish I could have done but they didn't happen because of COVID," Reyes explained. "I feel like if you have those opportunities, go for it!" Although quarantine may have briefly stopped her, Reyes is determined to see high school through in the best possible way with her eyes turned towards the future. "What happens in high school is going to stick with you for the rest of your life, and you may never have something like it again."
About the Contributor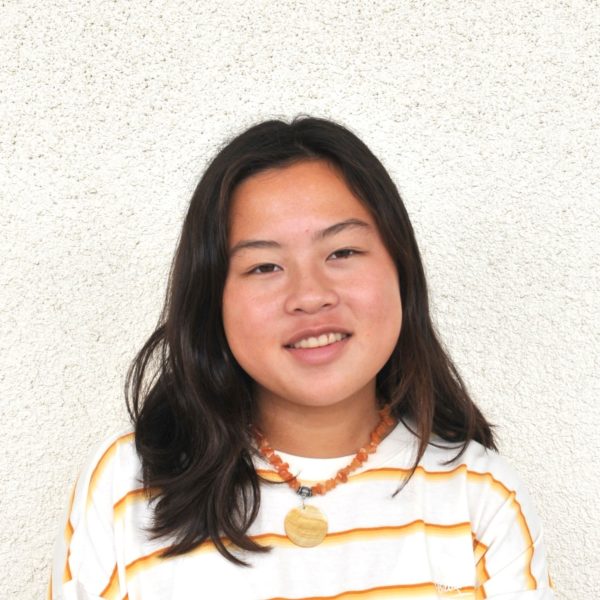 Natalie Ou, Sports Editor
Natalie Ou is a junior at West, currently serving her second year on
West Signals
as Sports Editor. As a first-year editor, she aims to write articles with clarity and conviction, believing that journalism is one of the greatest ways to give students a voice through writing. In her free time, Natalie enjoys all water-related activities, hand lettering, and trying out new culinary destinations (unfortunately, she usually finds herself in the financial predicament common to many broke teenagers and relies on her brother to foot the bill).