Hangouts at Steve's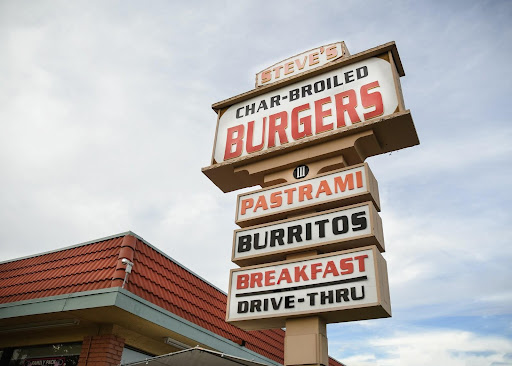 Picture this: after a long day of learning you and your friends are ready to relax and go hang out at the place with the best burgers in town. Sounds like the perfect after-school hangout, right? Well, this place indeed does exist. Located on Anza Avenue, Steve's Char-Broiled Burgers is one of West High's students' favorite restaurants. 
   Back in 1942, three brothers: George Andrews, Steven Andrews, and James Andrews, founded Steve's Burgers. Since then it has become a local favorite in the South-Bay area. Its proximity to West High and family-friendly atmosphere has attracted many students for generations.
   "The environment itself makes it a great place to hang with friends," Alyssa Reamer (12) shared. But their food is definitely what makes them stand out. Their famous Angus Burger is loved by many. A mix of fresh veggies with a juicy patty makes this a fan favorite. However, many students emphasized that their Chili Cheese Fries were out of this world. "My go-to order is their chili cheese fries … I've never tried something that good," Reamer added. 
   Steve's has become a part of West High students' high school experience. In fact, after their win at the CIF finals, the Cross Country Boys decided that there was no better place to celebrate their win than at Steve's. It has become a second home to the Warriors.
   Besides West High students, people from all over the South-Bay area come to eat at Steve's. Even tourists come every now and then. During the weekends Steve's employees do experience some chaotic and crazy hours but waiters never fail to serve with a smile on their faces. According to students, staff always greet you with a welcoming smile upon entering the restaurant and they make sure to be quick and efficient with orders. "They're friendly and overall [have] great customer service," Reamer pointed out. Their early hours also allow students to enjoy a delicious breakfast before school. "[During] my sophomore year I used to go there before school on Tuesdays and would always lose track of time with my friends and had to rush to get back to school on time," Isabelle Reynolds (12) shared. 
   So next time you find yourself hungry or tired after school, give yourself a treat by going to Steve's. A place with good food, a comforting environment and a great space to hang with friends.