Spooky Doors at West!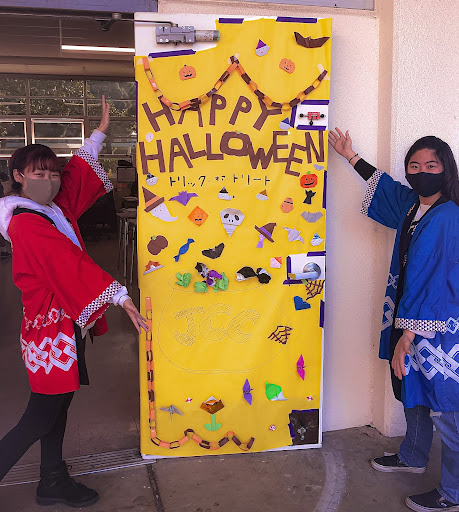 This year, West's annual Halloween Door Decoration Contest resumed! After two years online, students are back at their desks, classrooms are in use, and doors open in full swing. In October, those doors were decorated and judged by ASB in a spooky decoration contest. The prize for winning was extra money to the club's ASB account. 
   The Japanese Culture Club placed first in the contest. JCC President Fusako Maekawa (12) hoped to display features of Japan by incorporating Japanese culture, "but also having something Halloween-ey because Japan doesn't celebrate Halloween as a holiday." The concept used origami in a way that displayed both the American Halloween culture and the artistic Japanese culture. She believed doing origami "would be something all the club members can participate in… a good opportunity to have them communicate with or get to know each other while working on a project." After such a long period of virtual school, Maekawa relished the breathing room this activity provided for the club.
   JCC's origami door consisted of tiny pumpkins, skulls, tulips, cobwebs, and chains snaking around the door's top and bottom. Little paper critters and ghouls could also be seen among the spookiness. In big letters, "Happy Halloween" was spelled out at the top, with the club's name delicately shown below. 
   Their door won first place, and Maekawa couldn't have been prouder of everyone: "I was a bit scared because we saw some really good doors outside, and we didn't know how many doors were participating. We're glad our efforts paid off!"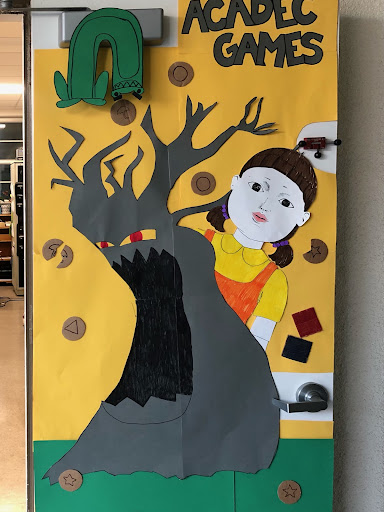 Academic Decathlon also participated in the Halloween Door Decoration Contest in October. The club's theme was last-minute and finished just a day in time. "On the day before [the judging took place], we came up with everything!" Acadec Captain Shreya Reddi (12) recounted. "During fifth period, someone came up with the idea, 'Oh, we should do something involving a dismembered doll!'" This idea sparked a suggestion to theme the door after the doll character from the Netflix show "Squid Game." The doll is a well-known figure from the popular show and its eeriness perfectly suited Halloween. Acadec member Amber Huang (11) drew the doll, and from then on the designs unfolded.
   Reddi explained their aim was to display iconic details of the show, such as the doll hiding behind a tree, playing a game of red-light green-light; dalgona candy from the honeycomb game, scattered around; and red-and-blue squares from a game known as ddakji, seen in the show's opening episode. 
   Nandini Singh (9), another member, enjoyed the bonding the contest brought. There was little opportunity for any fun activities because of the tight COVID restrictions last year, so the project was a great motivation boost. "You get to take a little break from studying," Singh said, grinning. She was glad for this competition to think outside the box and bond with members.
   Though Acadec's design didn't win, the connections forged were what mattered most. "At the end of the day, we still had fun and I don't regret doing it," Reddi stated. "It was really fun getting to know some of the other members and working with them."