Halloween Costume Creativity at West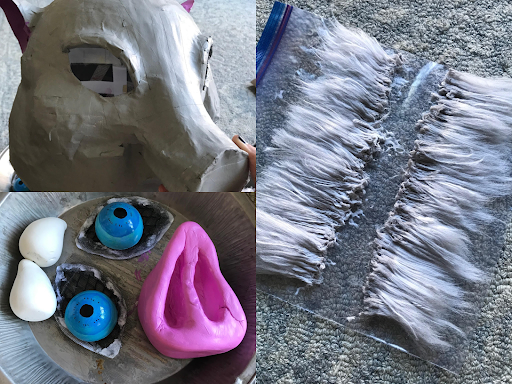 The weather begins to cool down. Decorative spider webs are back on the walls, and scary mythical creatures make their annual return to the lawns of our neighborhoods. It's time for Halloween! Many students are scrambling for costume ideas, and whether their goal is to be the funniest or the scariest, the costume creation process puts some creativity in the air amid the spooky atmosphere.
   Some students take Halloween costumes to the next level by making their own costumes from scratch. This year, Izzy Fujimoto (11) is spending another October crafting their Halloween costume from the ground up. "It's really time consuming," they shared. "But it feels really good to make something with your own hands and be able to go 'Wow, I made this myself!' . . . It's really rewarding." If indulging your artistic side is something you're looking forward to this Halloween, Fujimoto suggests making a trip to JOANN, Spirit Halloween, and Amazon for materials.
   Fujimoto's current project is Inosuke Hashibira from the Japanese animated film Demon Slayer. Famous for his iconic boar mask in the show, Hashibira was the perfect choice for a COVID-19 Halloween. Fujimoto explained that since face coverings are a requirement this year, a smart choice would be to incorporate something that already has a face covering. Halloween or not, it's no secret that face masks can sometimes take away from a good outfit. To overcome this, Fujimoto suggests costumes of masked characters such as the guards from the popular show Squid Game.
  Another common theme in the costumes of West High students is collaboration. For many costume ideas, the icing on the cake is the togetherness of a group costume. Siblings Angie Oakley (12) and Jack Oakley (9) decided to go as popular duo Coraline and Wybie from the stop-motion film Coraline. The Oakley duo "grew up on the movie," as Jack Oakley explained, making it a perfect costume idea for the two of them. 
   For Angie Oakley, group costumes add to the fun of dressing up for Halloween. "You get to take pictures with friends and embody the character for a bit!" they expressed.
   With Halloween just around the corner, we look forward to the unique costume choices of West High students. The campus awaits a day of scares and fictional characters.