#StandUp4DramaKids: Will the Show Go On?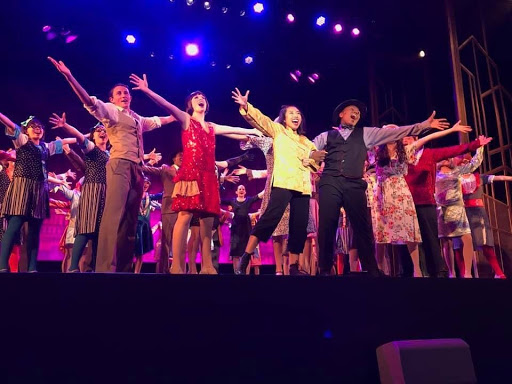 Act 1: A Devastating Year
   In March 2020, Ethan Verderber's (12) days were filled with worry and excitement. With two weeks before the opening week of West High Play Production's Shrek: the Musical, adrenaline was rushing. Tech week is usually hectic, with students working to perfect everything before opening. Verderber was preparing to be on campus from first period through the late hours of the night to give his best performance. 
   However, just as their time was approaching, COVID-19 shut the world down, bringing the Theater Department with it. The Performing Arts Center now stands frozen in time, abandoned costumes, lighting, and sets untouched, waiting for students to bring them back to life. Not only did the Theater Department lose their Spring production, but they lost their home. 
Act 2: Fight For Equal Time
   The transition from the stage to a cramped bedroom has been anything but easy. Theater students are trained to move and act with every single part of their bodies. Now they are limited to a small, pixelated square in a Zoom meeting. Verderber described a "laundry list" of issues that arise: lag spikes, internet crashes, faulty microphones―there are too many variables they've never had to account for before. Verderber expressed, "It hurts me to see the art that I love being diminished to a 75-minute period where you wonder, 'Can my classmates even hear me?'" 
   Mrs. Orabuena—director, head teacher, and alumni of West's Theater Department— added that there's now a disconnect between actors and their audience. "Actors feed off people," she explained. "You use your adrenaline and your nerves and everything to give this better performance." Even on TV shows, live audiences often surround the stage to give  actors that extra push. But over Zoom, the only audience a student might get is their working-from-home parents or noisy pets.   
   Since October 2020, high school athletics have been participating in on-campus conditioning and practice. But after-school Enrichment Programs such as Academic Decathlon, Robotics, and Theater are not permissible within the orders of the California Department of Public Health (CDPH). While student athletes have been able to come to campus, masked and socially distanced, theater students have been stuck at home. As a member of both the Theater Department and the drill team, Eliot Tom (12) experiences this incongruity every week: "It's frustrating walking past that empty stage as I leave drill dance practice to go home and do online drama dance practice." 
   The Theater Department feels that they aren't a priority. Mrs. Orabuena pointed out that unlike athletics with CIF, there isn't leadership at the district level for the Performing Arts. She believes that if they did, her department would have a voice in the room. 
  The media campaign #StandUp4DramaKids emerged on the Theater Department's Instagram on February 22nd to call for support from students. They demanded to receive equal treatment as their athlete peers, arguing that they are capable of abiding by the same safety protocols as sports teams. Verderber stressed that they don't want to take other departments out. "I'm happy for sports, that they get to go and have their communities. Because I know how much it sucks not being able to go back," he expressed. He is thankful that many students have an outlet to destress and enjoy themselves in groups that they cherish. "I just wish we could join them," Verderber said.  
   They just wanted to be heard, to know they had a voice. 
   Suddenly, there was an answer.
Act 3: Standing In Support
   Only 8 days after the original media campaign was created, TUSD Board of Education Clerk Dr. Jeremy Gerson decided to support their cause. On March 1st, several Play Production members spoke up at a school board meeting, sharing their stories of unequal treatment.  
   Unexpectedly, the board flooded the meeting with support. TUSD Board of Education President Betty Lieu spoke about her two sons, one of them being the president of the robotics team: "It's beyond frustrating…that they haven't been able to meet to prepare for the next competition or hand down their knowledge and experiences." Saddened by these losses, she agreed that the state's treatment and regulations were unfair. Many other board members showed support as well.
   As a solution, Gerson proposed postponing all sports competitions, especially now that teams will be congregating with other schools: "I would think other student groups would come and support at this point, and going 'No, [the performing arts] should be allowed to do what we've been allowed to do before we're allowed to mix school." But Lieu, along with other board members, disagreed, arguing that they shouldn't penalize sports, as it wouldn't benefit the performing arts. Instead, she proposed sending letters to the governor, the CDPH, and their legislator to bring more attention to the inequality. Interim Superintendent Dr. Tim Stowe also expressed plans to advocate for their cause in his upcoming meeting with the CDPH. 
   After the board meeting, Verderber was filled with excitement. "We're making progress as a community of self-improvement and it puts a smile on my face," he shared. 
   While the fight is far from over, TUSD's support gives the Theater Department hope that they'll be able to return to their empty stage before this years' seniors give their final bow.