The Road to Speech and Debate State Qualifiers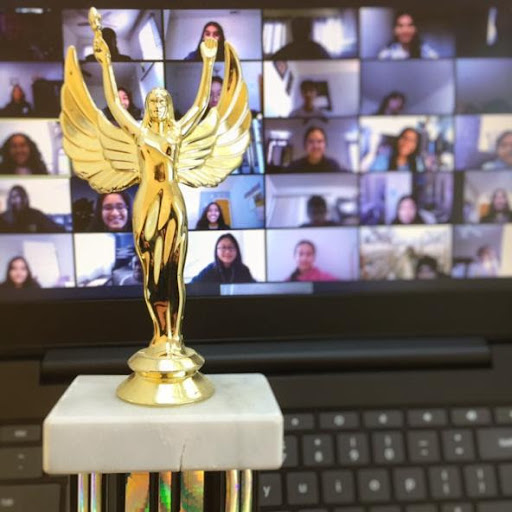 Every spring, West High's speech and debate team spends hours memorizing, revising, and drilling. In a typical year, they can be found perfecting their pieces in the biting cold of zero period. This year, speech and debate has taken the same level of dedication to the virtual realm. Classes, tournaments, and practices are entirely virtual, but the team's determination has not changed in the slightest.
State qualifiers are on two separate weekends. Speech is scheduled for March 5th and 6th, and debate qualifiers are on March 20th. Members are able to compete in one or both qualifiers, often with multiple pieces in distinct events.
One major change is that prepared speech events will be pre-recorded instead of performed live. Team captain Bhaavana Anna (11) is entering speech qualifiers with Dramatic Interpretation (DI) and Program Oral Interpretation (POI). Both are prepared events that require editing and performing an already written piece. According to Anna, her DI piece, which was adapted from Educated by Tara Westover, "conveys that you should break free to become who you are, and you shouldn't be afraid to be your true self." Her other speech piece, titled "I Wish," revolves around "the definition of depression in a brown girl's house…It talks about how feelings are squished, and the truth behind the word depression." Both will be recorded and submitted asynchronously. Pieces that advance to semi-finals and finals will be performed live before judges.
What has not changed this year is the arduous process of preparing for a speech event. Both of Anna's pieces are memorized, so in the weeks leading up to state qualifiers, she has been reciting her piece and perfecting her delivery. Despite speech entries being pre-recorded this year, it takes just as much time to comb through a single piece and practice to perfection.
On the other hand, spontaneous speaking events, which are not memorized prior to tournaments, will still be live. Jana Abulaban (11), another captain, is entering speech qualifiers with Impromptu, in which entrants are given a random quote or topic and must deliver a relevant five minute speech. However, members competing in events like Impromptu are still busy in the weeks and days leading up to qualifiers. "Even though it is a spontaneous speaking event, there are definitely ways to prepare ahead of time," Abulaban said. To prepare, she comes up with specific examples, "so if we get any kind of topic…we could refer back to the examples we have prepared ahead of time, and try to connect those examples to this specific quote." Additionally, Abulaban described practicing for Impromptu by compiling random quotes or topics and attempting to form a speech on the spot.
Though the team's dedication to practice has not wavered, it has still faced challenges brought on by the transition from in-person to virtual tournaments. In addition to acclimating to a new format and platform, Anna mentioned missing the unique "confidence you get when you walk into a round ― the adrenaline rush."
Still, the team has learned to adapt. In between tournament rounds, team members hang out in the virtual "West High Squad Room," where they socialize, destress, and support one another. That's another aspect of the speech and debate team that has remained constant: its close-knit bond and constant support. Abulaban shared, "I'm just really glad to be part of a team that is very, very supportive, very helpful, and has a great bond ― a team that cares about each other so much."
Abulaban also stressed how much the captains of the team worked to create a welcoming environment. The five captains have worked hard to foster a welcoming environment, especially for new members: "We prepared different lessons or presentations so that we could help the team learn more." Anna added that the captains made sure to incorporate lots of team bonding activities to their practices and emphasize getting to know one another on a personal level. According to Abulaban, "that is our main responsibility: to make sure that everybody on the team feels that they have the help and support that they need at all times."
The supportive nature of the captains and the team has been crucial to its growth and passion for speech and debate. Especially for novices ― first-year members ― the transition can be difficult. However, that's one of the positives of going entirely virtual this year. Anna explained, "Everyone wasn't afraid to speak their minds because they were online, so they had a protective barrier, in a sense." And although some teachers have found that meeting virtually significantly reduces participation and engagement, Anna was glad that "we have a really great turnout based on people who have their speeches memorized [and] all the events we've won."
   Michaela Dumlao (10) is a novice this year. She was only able to make room in her schedule for speech and debate because it went virtual ― the silver lining of distance learning. As a first year member, the most notable thing she learned was the power of the mind: "Going into rounds, I realized just how big of a difference it can make if you think that you can achieve something, or feel confident about the things you are saying…if you use that drive and that internal motivating force, it really makes a difference."
And even for veteran speech and debate members, this year has still been a learning experience. "You learn things on a daily basis in speech and debate," Abulaban said. This year, she tried Impromptu for the first time, and found that "there's no harm in stepping outside of my comfort zone, and I would never know unless I tried."
Competing in the virtual realm has been unfamiliar and new for many members. However, that hasn't stopped the team from pulling together and pushing through a year of competition, ultimately culminating in the state qualifiers. They are bound by hours of practice, relentless dedication, and a love for learning, speaking, and communicating. As they go into state qualifiers, speech and debate is determined to reach new heights and overcome each new challenge together, as a team.