A Holly Jolly Winter Rally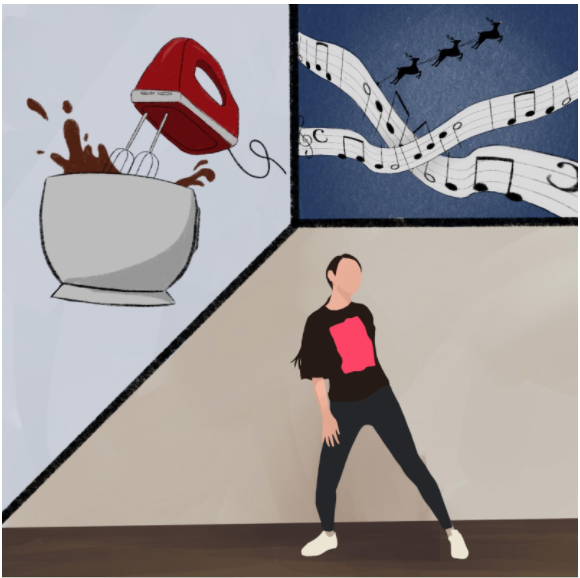 Due to the lockdown and California's restrictive stay-at-home order, it was clear that there weren't going to be any cheering crowds, oceans of class colors, or students flooding the gym in excitement for this year's Winter Rally. How was this highly social event going to stay socially distanced? 
   This transition from in-person to virtual rallies was unprecedented. Until students were allowed back on campus, ASB found that live streaming the event on Youtube would be the safest option. ASB worked together over Zoom and bounced around ideas that would fit the Youtube Live format. "The hardest part was choosing the right events that would engage the audience," Secretary of Spirit Rhyan Hill (12) explained, "since it is a video, we knew that people could just click off anytime. So we wanted to make sure we got the audience [to] really be interested in what we put together." But fortunately, this change in format led to a sweet addition to the rally: the Holiday Baking Championship. 
   Students and advisors from each class were chosen to bake anything they wanted. Marina Suzuki (9) was the freshman competitor who chose to bake a layered cake but with a twist. Instead of frosting, she put a layer of cheesecake in the center, setting herself apart from the other bakers.
   But this challenge didn't come without difficulty. "For the first [cake layer] I made, the inside did not bake all the way no matter how many times I put it back in the oven," Suzuki recounted. But thinking ahead, she had baked an extra layer for this exact situation, allowing her to push forward along with her fellow competitors. 
   Secretary of Business and former Kids Baking Championship victor Jackson Fujimori judged each dessert thoroughly, giving his critiques and appraisal one by one. Although he was almost fooled by ASB sophomore advisor Mr. Jin's store-bought macaroons, Suzuki was ultimately declared the winner, with the juniors and seniors following close behind. 
   Next in the rally came Advanced Dance and their special performances to Physical and Bola Rebola. Previously, the dancers participated in the summer USA Camp where they learned these two routines. They then combined their individually recorded dances to create the final video. Benjia Zhang (12), one of the West High Dance Department's Artistic Directors said, "Since we're not with each other, we have to be really familiar with the choreography. You can't have that other person in the corner of your eye to make sure you're in sync." Even though the team wasn't able to come together physically, they were still able to pull it off with entertaining editing tricks, smooth transitions, and a hard-working group of dancers. 
   The rally also showcased Aristocracy's jazz acapella rendition of Santa Claus Is Coming To Town. Zhang was amazed by their quick adaptation to the virtual performance, saying, "I thought it was really cool how they could still sing together and stay in sync." 
   With students decked in festive sweaters and cheerful energy, the rally eventually came to a close with a lip sync to Kelly Clarkson's Underneath the Christmas Tree. The screen slowly faded to black, signaling the end of the Winter Rally.  
   Thinking back on the event, Ava Marsh (10), the sophomore baking contestant, gave her thoughts; "I think [ASB] did a pretty good job considering how [hard] it could be. It probably takes a lot more time and consideration to plan events online compared to in-person." ASB was tasked to find a compromise between maintaining student safety while also making it fun, and Marsh pointed out how the baking competition fulfilled both of those needs. Although there were many obstacles that stood in their way, ASB was able to navigate through and offer an entertaining afternoon for West students. 
   In the end, Hill expressed, "I'm thankful for everyone for being in the spirit at our school and tuning in on the fun stuff ASB has been planning." Even though the rally is over, there is still time to show your spirit. Don't forget to share your favorite holiday movie, dress up in a cozy outfit, and show off your ugliest sweater during spirit week!