DIY Corsage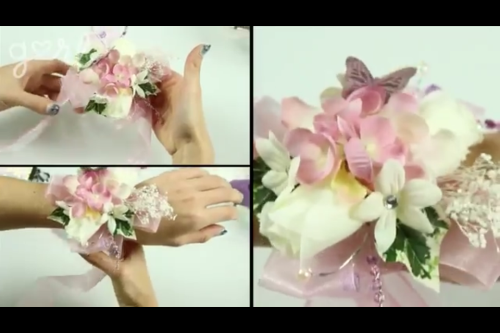 Have you ever needed a corsage that didn't stretch your wallet in the process? Well, now's your chance to make one! In the YouTube video "Corsage For Prom – Do It, Gurl," it explains a fast and easy way to create your own beautiful corsage.
  All you need to get started is scissors, hot glue or super glue, and ribbon. Make sure the ribbon chosen matches your dress! You also need flowers and some ivy or decorative leaves. You can either use fake or real flowers. Fake flowers last longer so the corsage can be made in advance, while real flowers are more professional and might look more elegant. Examples of good flower choices include roses, orchids, and baby's breath. Here's the step-by-step process in creating your own beautiful corsage:
  Step 1: Make four small loops with your ribbon and glue them together so that you have a "four point bow." This is the base of your corsage.
  Step 2: Now take your ivy or decorative leaves and glue them to your bow. There's no pattern to follow, just do what you think looks best.
  Step 3: Since roses are the biggest, cut off the stem and glue those on next.
  Step 4: Glue your iris flowers on top of the roses or your ribbon.
  Step 5: Cut the orchids off the stem and glue those in the middle or to fill in the gaps.
  Step 6: Now decorate! To personalize this creation, you can glue on sparkly beads, add baby's breath to a corner, or even clip on a charm.
  Step 7: Glue a ribbon to the bottom so that you can tie it to your wrist or even glue a huge pin on the bottom to give to your date as a boutonniere!
  You now have a gorgeous corsage to use however you wish!