Yin and Yang: Like You and Me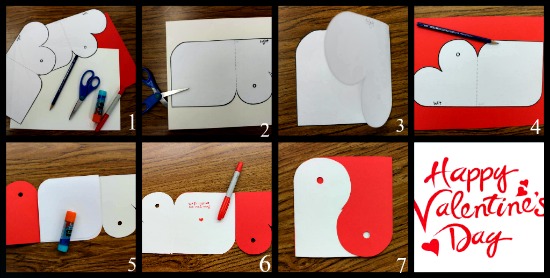 Valentine's Day is just around the corner and many people are looking for the perfect gift to give to their significant other. Here's a simple do-it-yourself craft that would make Valentine's Day 2014 more special! This tutorial, created by blogger Cecilia from craftingcreatures.wordpress.com, teaches you how to make a handmade Yin Yang card. It's a cute and unique design and is not a typical card you would buy last minute in your nearby stationery store. Here's how to make it!
Materials:
red construction paper

white construction paper

template

pencil

scissors

glue

red pen/marker

exacto knife (optional)
Cut out template. Cut holes into the template using an exacto knife if you want to create an intricate design.

Fold along the dotted line.

Trace the left template onto the red construction paper and the right template onto white construction paper.

Cut out the traced templates.

Make sure both the left and right templates align correctly before gluing the white diamond section on top of the red one. This is where your message will go.

After the glue dries, write a message inside using a red pen or marker.
Ex: "We fit together like Yin and Yang." "You are the Yin to my Yang."
Giving this special, yet quirky card to your significant other with some sweets and flowers will bring a smile to their face and brownie points for you!