Racing Into Action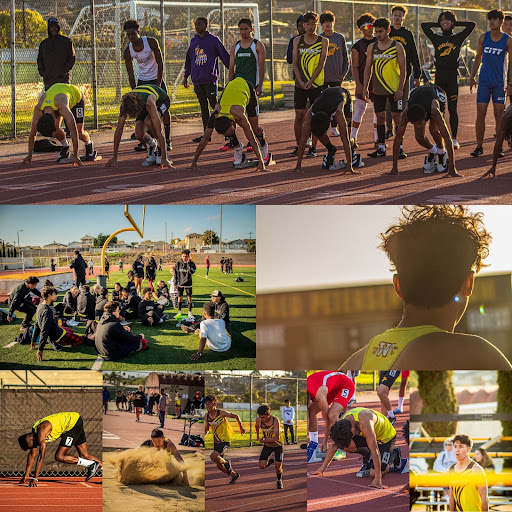 After almost a year, the West High Track and Field Team got the opportunity to participate once again in the South Bay Champs Competition on April 15 and 16. "The energy everyone brought and the level of competition brought forth a lot of competitiveness and great athletes for the meet," Caden Matsumoto (9) expressed. 
    West High took over the competition by getting first place in almost all categories. Tyler Vo (12) broke a personal record for long jump with a jump of 21' 7.5." "I felt pretty good about my performance . . . the personal record in the long jump was an improvement from my last PR by over a foot," Vo commented. For weeks, the track team has been preparing for these races. The day before the race, runners prepared themselves by practicing block starts and doing partner stretching. "I like to mentally prepare by just imagining my races and running the meet in my head," Vo added. 
   The South Bay Champs meet also gave freshman runners the chance to make their debut at their first big competition. "I am happy about my placement in the long jump but I know I can do even better in all my future events," Matsumoto added. As a beginner jumper, Matsumoto is trying to focus on his performance and personal goals, rather than placement or title. "This way I don't get stressed out and I just focus on doing the best I can," he explained. 
   Despite being a successful weekend for the West High Track Team, it was also a bittersweet one for the seniors. After four years of hard work and dedication, many are starting to say goodbye to the field and the team that saw them grow as athletes. "I'm most definitely going to miss my coach and my team. I'll continue running in college but I can say I'll miss the environment," Amor Jones (12) expressed. For many athletes, their team has become their second family – and the memories and laughs will last forever. "Track and Field has an amazing culture . . . my teammates and coaches push me so much every day, they are the reason I improve," Vo affirmed. 
   Follow @whs_trackk on Instagram to stay updated on the rest of the season!