Basketball and Omicron's Surge
Like all sports at West High, Boys' and Girls' Basketball have been affected by the recent wave of Omicron cases. Players are missing, games are being canceled, and everything's a little chaotic. Mason Nishikawa (11) and Gabriel Hernandez (10), members of Boys' and Girls' Junior Basketball respectively, play among the changes in the sport.
   Nishikawa has been a member of JV for two years, having played on the freshman team and all throughout middle school. At a tournament over winter break, his team played against players who tested positive. This meant they had to shut down the program for around a week, during which all basketball activities were paused.
   Even practices were unspared: Masks had to be worn at all times, even during conditioning and games: "We have to keep our masks over our nose and everything… it's definitely hard," Nishikawa said.
   It's the same with the girls' team: Masking requirements were looser earlier in the year, but that quickly changed to help prevent the virus from spreading. Players now "can't wear cloth masks and have to get tested every week; usually on the weekends before games," said Hernandez, playing JV for his first year in high-school basketball.
   Quarantining was difficult for some players: "I stayed in my room the entire time," described Nishikawa. "I couldn't practice. I couldn't play basketball… I didn't like it."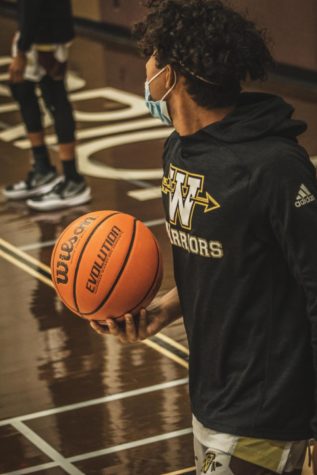 Similar to the Boys' team, Girls' Varsity players also had to quarantine. Playing on the Junior Varsity team, Hernandez still saw a lot of absences from infections. He once contracted the virus himself, and returned "the week after winter break . . .  [He] had to miss a lot of practice and three or four games." On top of the tedious protocols, players also struggled with catching up after contracting the strain.
   Due to the distancing protocols for COVID-19, communication in the team has been a little off. "It's been affecting a lot of our games," Hernandez explained.
   On January 21, the team's game against El Segundo was canceled. The other team shut down for safety, meaning there would be no game that Friday. These kinds of obstacles make following safety protocols even more crucial. But the protocols extend to more than just the games.
  Though it's difficult to stay focused on an activity without constant fatigue, the added precautions are worth it. While Hernandez assured that "it's kind of tedious, it really pays off because it means [they] can play more games and make sure everyone's safe and healthy."
   Physical obstacles are difficult to overcome themselves, but the changes have been mentally challenging as well. Without playing together, any regular teamwork was interrupted. "It might've lowered our chemistry a bit," Nishikawa admitted. Eight team members on the boys' team caught COVID-19 then.
     Even now as players have returned, some things still remain uncertain: "If we do get sick, we can't participate in sports, go to school, [or] learn," Hernandez expressed. He feel's "there's the element of being scared that you're going to get more exposed to COVID-19 during sports since you're always in close contact with people." 
   By interacting with people from the team or a variety of schools, it became a gamble to play, even with stringent precautions implemented… "because who knows if that school is taking it as seriously as we are?"