Intense Wrestling Duel Against Redondo
   The intensity in the ring entranced the crowd; every slam, chokehold, and throw elicited roars of support. On December 2, wrestling teams from West and Redondo Union met in West's main gym for a duel.
   Wrestling duels are organized in sets of matches per pair. Unlike tournaments, where wrestlers move up by victories, each set of points scored per set adds up to the team total. Once all wrestling is finished, the total points are compared and the team with the most points is declared the winner.
   After two and a half hours of exhausting wrestling, tired players exchanged handshakes and dispersed. This time, the guest team, Redondo Union, won the duel. The loss disappointed West's team, but they hope it won't happen again. Varsity Team Captain Michael Barretto (12), who has been wrestling since freshman year, related his feelings about the duel's playout: "We definitely could have done better, but the overall focus was for the team. We had the right mentality."
   The mentality in question is persistence ― the wrestler refuses to give up. "Even if you're in pain, you have to fight through it," Barretto explained. Captain Donggun "David" Lee (12), who is in his third year in wrestling, formed a serious cramp during his match in the duel, requiring a time-out. But with a resilient wrestling mentality, Lee pushed through and won!
   A newer member of the team, Joseph Howarth (9), added, "It's not about the wins or victories . . . it's about who can last longer. Even though there were new kids, they fought hard and had Redondo [become] really tired."
    Aside from physical requirements, wrestlers must take biweekly COVID-19 tests to meet health protocols. They head to the Performing Arts Center to be tested on Mondays and Wednesdays. If tests return positive, they need to follow the basic quarantining guidelines and are not allowed to return until they're safe. Compared to last year's strict health protocols, this is the only one they must follow this year.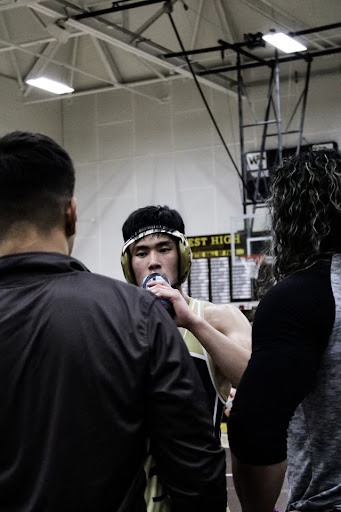 In terms of danger or safety, Barretto believed it depends on the wrestler and their ability to handle the sport: "There's stuff you can do to ensure your safety, like learning how to fall or stretching correctly." Success isn't easy for everyone, but wrestlers must be careful to take care of themselves to perform their best while staying safe. Lee's advice to new wrestlers is to take things slowly since skills are developed through experience: "You're not going to win against a good guy your first year: [everything] comes with practice." Having skill means understanding the sport. There will always be the risk of injury with wrestling, so practicing can help players prepare for future risks. 
   Injuries are still common, even for experienced athletes. Barretto, a wrestler for four years, dislocated his shoulder multiple times and suffered a hernia once. As a result of his shoulder dislocation, it displaces again often. Howarth broke his nose in his first months on the team, and only increased in injuries with time. Wrestling is a difficult sport to pick up since it isn't enjoyable to get beat up each day, but Barretto has "push[ed] through it because winning is fun!"
   The duel's outcome didn't please any of the teammates. Lee added that he was eager to beat Redondo this year, but his focus now is to "help the younger guys get better so we can beat [Redondo]!" In reflection of the duel, Lee looks to improve and win more in the future: "I think as a team we could have done a lot better . . . we lacked a lot of confidence." Rather than becoming sour over the loss, they accepted it in good sportsmanship.
   The coaches, Howarth had noticed, were the most upset. They "were pretty disappointed. I can see in everyone's faces that we were all disappointed in ourselves . . . and we didn't want that to happen again." 
   Otherwise, the duel was a good learning experience for the team. If anything, it served as a motivation to improve and go further: "The lessons I learned from it [will] carry on throughout my life," admitted Lee. "You just got to keep wrestling . . . and work harder than your opponent."