Girls Tennis Steals Last-Minute Win Against North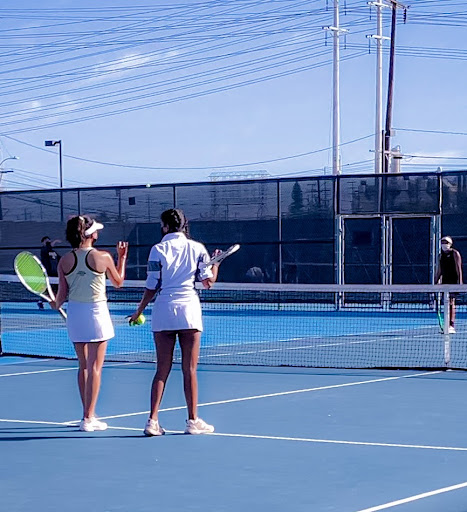 On October 25, West's Girls' Varsity Tennis team had a stunning match against North High. The result of every game led to the tense moments of the last set: the teams were both on edge and exhausted. The initial set was at a tie, so the last set went to a 7-point tie break to declare a winner. These were the most nerve-wracking moments of the entire match.
   Amy Lee (12), co-captain of the Girls' Tennis Team, explained that her strategy was to "focus on the game right now. Instead of the future, worrying about 'Oh, if I don't do this all game…' you let that jeopardize the entire team." She emphasized that she learned it was best to focus on what's happening in the present since getting wrapped up in your mind can be detrimental to the game; overly prioritizing the outcome can harm the players' performance.     
   However, recognizing the playing patterns of athletes from other teams can be a huge help. Lee explained that "Because I know their position, I have an idea of what to expect and what I can do in response to that." 
   Coach Jin added that "North has traditionally been strong in tennis… [we're] in the same boat in terms of talent. All the games against [North] have been relatively close in recent years." North has been flexible in adapting for each game. West's team has also shown swift advancement, so Mr. Jin is confident that the girls will only get better!
   The entire match was full of intensity as West and North competed head to head. Near the finish, it ended with a tie of 6-all, so the regular set continued with a tie break. The final game was a singles set: it all depended on Senior Varsity player Elizabeth Ursenbach (12). Since it was such a significant game, Lee recounted how she and her team were "cheering on [Ursenbach] a lot because we [knew] how important it was and wanted to make sure she knew that she had the support of her team… and she pulled through, she won it for us!" The team is immensely proud of Ursenbach for the victory, especially after such a nerve-wracking last game. Lee is also grateful to North for their excellent sportsmanship.
   Although the team didn't win the season's final match against Torrance High on October 27, they're determined to perform better next season. During the off-season, Mr. Jin plans on improving the team by getting to know how they all connect and further strengthening the team's bond. He hopes to enhance team performance by studying their preferences and skills on the court, taking what they learned last season. Next season will be it for sure!