Athlete of the Week: Conor Gibson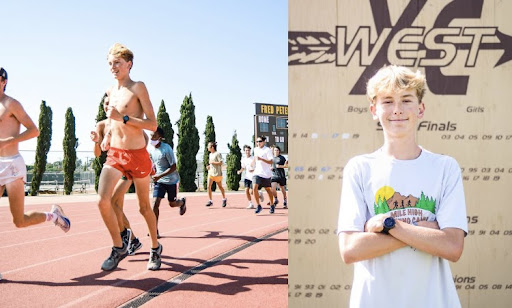 The mile run: while it is loathed and feared by P.E. students everywhere, it represents something else to cross country athletes: a chance to prove their skill and endurance. And Varsity runner Conor Gibson (12) proved his resolve by setting a new record here at West High for running three miles in the shortest time in school history, clocking in at 14 minutes and 19 seconds.
   When asked if he wanted to break the school record, Gibson said, "Last year Joshua Murray and I both broke the previous record (set by him two years ago) in the three mile by one and two seconds. He beat me in that race so I was one second off the school record. After he broke the record his junior year, I knew I wanted to go after the three mile record."
   Initially motivated to join to stay in shape for his volleyball season, Gibson has been a member of the Boys' Cross Country team since his freshman year and hasn't looked back since, becoming one of the best runners on the team as shown by his ability to break the school record. "I feel very accomplished knowing that I broke the record, but it was something that I knew I would do already since I was one second away from it. I just wanted to see how far under the record I could actually go," Gibson said.
   The respect for Gibson is felt throughout the team, with teammate Dominic Disloquez (11) saying, "Conor is great because he knows exactly how to keep the team's energy up. He cheers everyone up when someone isn't feeling it at practice and he also knows when to get serious." 
   Even though Gibson has already broken a school record, he's not stopping there. He has already set his sights beyond high school, hoping to continue running cross country and track in college.