Last Homecoming Game for the Class of 2022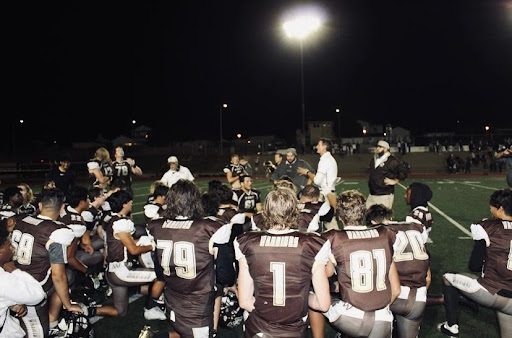 Loud chants, colorful banners, and excited students: the West High community gathered at Fred Peterson Stadium on Friday, October 1st, 2021 for the Homecoming football game. It was definitely a night for the books, especially for Seniors, since it was the last Homecoming game of their high school careers. Our West Warriors played against the Torrance Tartars and won with a phenomenal score of 28-7.
   It was an emotional game for most Senior football players. "At that very moment you're hit with the fact that this is your last [Homecoming] game … because after that we're done," Varsity Football player Juan Garcia (12) expressed. With a victory like this one, it was undoubtedly a perfect night for all football players. "Some people shed tears because they were really happy that we won," Garcia added.
   West Drill and All Male (WDAAM) also made an appearance at the game. They danced it up to "Touch Down 2 Cause Hell" by HD4President. Their awesome performance amped up the audience and ignited their school spirit. This was also a night to remember for all WDAAM seniors. "I was really sad that it was my last game … but I was happy that I got to do it," WDAAM member Cathy Lam (12) stated. 
   But the night didn't end there. Seniors Elliot Kim and Meileen Taw were crowned as Homecoming King and Queen. Elliot was happy and surprised that he won. "I wasn't even expecting to make it to the Top 5," Kim excitedly expressed. Taw recalled being "shocked frozen" at the moment when ASB announced that she was Queen. "I felt honored to be voted by all my peers," Taw added. It was the cherry on top of the night.  
   After almost two years without any home football games, most West High Seniors were excited to experience this one. With college applications, homework, and plans for the future, it can get overwhelming for Seniors. But it is events like this that make the high school experience a wholesome and fun one. "The game was fun and I'm happy I got to experience it as a Senior," Frances Garcia (12) said. Dressing up for the game, chanting with friends, and supporting our school's team are things that many students deeply missed and are finally being able to experience again. Senior year is always emotional because every school event, game, or activity will be the last one of your high school experience. "There is something about being in your last year, your last moment to do something … there is more sentimental value towards all of it," Garcia happily described. 
   Certainly, the class of 2022 had an eventful night of awesome performances, a triumphant victory from our West Warriors, and memories they will hold on to forever.