Staying Fit During Quarantine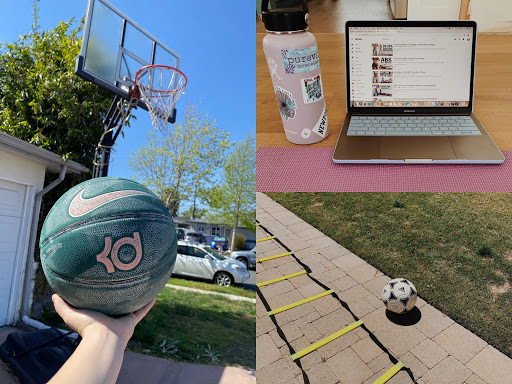 We have been confined to the walls of our houses for a couple of weeks now and it has come with many changes. Understandably, it has been a time of adjustment and confusion for everyone; but what have the athletes of West High been doing to stay in shape without their sports? 
Steven Rogers (11), pitcher for the WHS Boys' Varsity Baseball team: 
 "I am working out during this break. I think it's important to stay in shape because at a time like this when my baseball season is cancelled it's good to stay in shape.
Every day I do half an hour of ab workouts and I run 2 miles every other day. Stretching is key for me, I do that multiple times a day. I also do pitching drills for baseball most days to keep my form and technique the same during this break."
Piper Takenaka (11), captain for the WHS Girls' Varsity Basketball team:
"I have a core and leg circuit that I do pretty much every day. I also go on walks and bike rides with my family. Every other day I shoot some hoops and run. I don't really have a diet but I try to portion and not eat too much of some things."
Sammy Gonzales (9), center attacking and defending midfielder for the WHS Girls' Soccer team:
"It is hard to make it seem like everything is normal when all of this is going on. I am trying my best to keep a schedule so I feel productive and, most importantly, stay healthy! Every day, depending on how much school work I have, I either workout in the morning or in the evening to make sure I stay in shape. Usually, I follow this workout schedule called the two-week shred by the YouTuber Chloe Ting and it's a great workout that varies from 20-45 minutes. This workout makes me feel energized throughout the day and gives me exactly what I need to stay in shape for my sport, soccer. I also try my best to go outside, in my backyard, of course, to get some fresh air and some touches on the ball. Usually, I do juggling, some dribbling, and skills."
Isabella Pellicciari Torres (10), dancer on the WHS Intermediate Dance team:
"I have a workout on the Notes app on my phone that I try to do 2-3 times a week. Plus we have dance auditions next month, so I practice for that almost every day. None of my workout is cardio because I hate it so I mostly focus on my legs, arms, and core. There are different variations of squats, sit-ups, push-ups, and a couple of other things."
For however long this pandemic continues, it's vital to remember to stay healthy and engaged while staying inside. Pull up Youtube and follow a yoga tutorial or grab your family and toss around a ball. Even if you aren't a serious athlete like the people interviewed above, try to find ways to keep yourself engaged and active.