Girls' Basketball Reclaims Victory Against North
   The West High Girls' Varsity Basketball team redeemed themselves after a well-played game against North High on Friday, January 31st. 
   During the first quarter, a few of the Warriors grew concerned as North started off the game fiercely, earning themselves a ten-point lead. Players such as Nicole Chuang (9) expressed her worry by saying, "This game was important because we knew North was going to want to beat us on our home court. We wanted to be undefeated, so it was sort of nerve-racking." In their previous game against the Saxons, the Warriors' persistent efforts were overwhelmed by the equally powerful plays from North, causing the teams to go into double overtime. But this time around, they were determined to win. 
   As time passed, the Warriors began to quickly respond to their rivals' plays as the score shifted back and forth between the teams. Learning from their recent encounter, the girls improved their strategies by moving the ball on offense and keeping their defense just as intense. Varsity Captain Jessica Yamashiro (10) explained, "I try to keep an offensive mindset when playing and looking for smart shots to take. And, in the hard times, I give support and lead the team as best I can." The positive environment created by the combined players helped keep spirits alive as they entered the second half of the game. 
    During the third quarter, the score was nail-bitingly close with Warriors leading by five points. After a struggle for possession over the ball, Chuang managed to quickly dive and pass it to her teammate Piper Takenaka (11). With all eyes on her, Takenaka took her shot. The bleachers erupted in shrieks and applause as the miraculous three-pointer pushed them further in the lead. 
    West continued to dominate during the third and fourth quarter, showing that, despite a rocky start, they were going to continue a strong fight. One moment that particularly stood out to teammates Kaila Uyemura (10) and Varsity Captain Jordyn Morimoto (12) was when teammate Jaden Sanderson (11) took charge. "Jaden got a lot of rebounds throughout the whole game, letting us get more possessions," Uyemura explained. Morimoto added to that, saying, "It changed the momentum of the game and brought good energy to our team."
   With their strong sense of teamwork and perseverance, the Warriors secured the win against North. The final score was 59-49, placing them first in league. A sense of accomplishment and pride washed over the players, knowing they successfully regained the respect of their rivals. As league is slowly coming to a close, the team hopes that their encouraging attitude and hard work will help them end on a high note.
About the Writer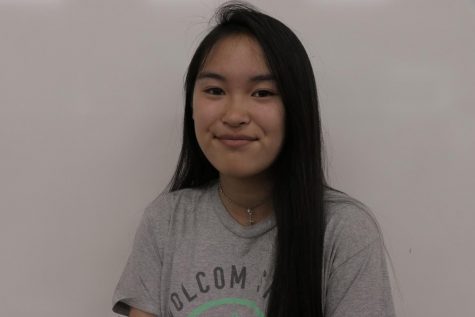 Alexssa Takeda, Staff Writer
As a newcomer to West High, Alexssa Takeda was hesitant to apply for Signals, intimidated by the captivating articles and insightful words written by the...