An Unfortunate Fall At CIF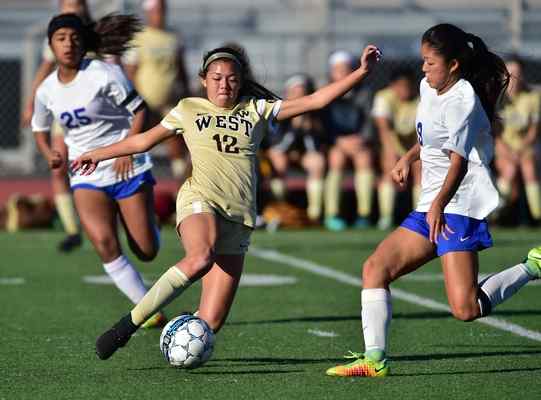 West High Girls' Varsity Soccer played their last CIF game, and lost to Newbury Park on February 16. The final score was one to three.
  The game started off in West's favor as they scored a goal within the first ten minutes; however, as the game progressed, the opposing side took control.
  In the first half, Forward Kayla Cannon (12) crossed the ball to Forward Kimberly Butland (12) scoring a point for West. Newbury Park then stepped it up and scored a goal. Center Midfield Kayla Welchel (9) said, "We [struggled] to keep the ball in our possession…  We had some chances to score but did not execute them correctly."
  Once the first half was over, Newbury Park scored three goals. In the second half, neither side ended up scoring another point, leaving the final score at one to three.
 Even though West lost the game, they prepared for it as best they could. Wing Back Devyn Hegardt (10) said, "All week during practice we worked hard on transitioning across the field and on our corner kicks. For the next game, we just need to have higher energy from everyone."
  Center Midfield Jessica Goucher (11) added to this by stating, "We really focused on playing together as a team and coming together mentally as a group. We made sure to work on our set pieces and plays at our practices, [taking] our practices harder leading up to CIF."
 The girls played as hard as they could, but the loss took a toll on them. When asked how she felt after the game, Welchel said, "Seeing the girls upset and this being the seniors last game made me really emotional. [However,] it was an amazing experience being able to play with an unbelievable group of girls."