West Fumbles to Redondo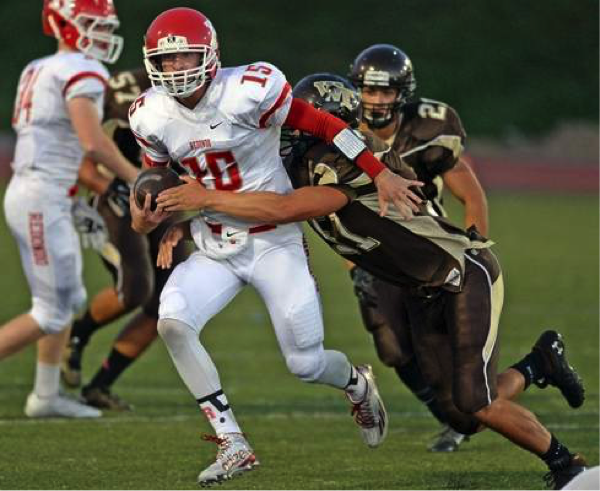 On Friday September 18th  the West High Warriors suffered their first loss of the season against the Redondo Seahawks. Warrior fans were on the edge of their seats watching the Warriors play their  toughest game all season. With the final score 14 -3, West suffered a heartbreaking defeat.
   The game started with both defenses putting up stellar performances; keeping the game scoreless well into the first half. But West managed to get on the board in the second quarter West thanks to a field goal by kicker Denver Silverlake (12).
    "We played a good team and it could have gone both ways" said Jonathan Atkinson (12). West led 3-0 into the second half, but was unable to score any
    Though the team suffered a tough loss, barely losing in the fourth quarter, the players managed to maintain a positive attitude. Players showed good sportsmanship even through their surprise due to Redondo's improvement.
         The Warriors are determined to get back on the field and win. This game was an eye opener for many people including; coaches, players, and other prospects.
    "It sucks but we have to go out next week and train harder" said Garrett Iwamoto (12).  This game showed our Warriors that extra work needs to be put in. Due to the many uncompleted passes by the Warriors, they all know that is one area where they need to work on.
    With fans and coaches showing tremendous support for the Warriors, they are ready to get back out there and learn from this game. The coaches ensure us that they will do what they can to strengthen their weak spots.  
  "I was proud of our team tonight. We played a very good team [from] Redondo. We learned a lot about competing, that's what preseason games are for. I was pleased with things that I saw tonight. We have some things to work on but we did well, I'm proud of the team. Obviously we are upset that we lost but we know we are going to do better" said Coach Holt. This game may have been tough but it was also a great game.
  The Warriors are coming back stronger than ever and are looking to prove it next week against Mira Costa.