Our Warriors' Perfect Season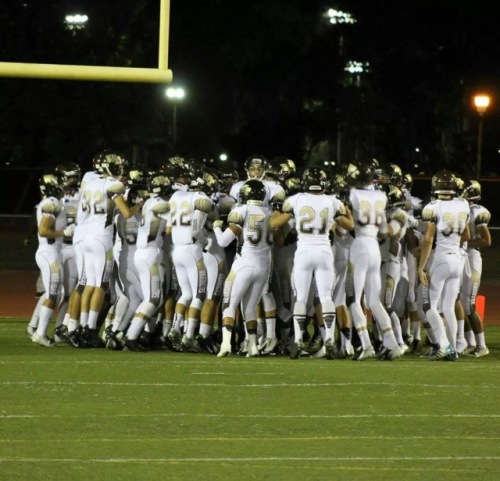 The West High football team led our school to victory by earning their first perfect season in the last 20 years. Throughout the many whiteout and blackout games, rallies, and "friendly" competitions between other schools, this past season took school spirit to a whole new level. Of those that came to support our team at the games, everyone that attended agreed that they had an amazing time. Football season has always been a favorite among West High students, but this year has definitely got to be the most exciting year for our Warrior team. The crowds slowly progressed after each game; people on the bleachers getting more and more anxious to see West take home another win.
Every game has its memorable moments, but to Jake Hawley (12), the Torrance game was the game that stood out from the whole season. "I think the biggest highlight was beating Torrance High in the 10-0 win…but if I could summarize the entire season in one word, I'd say it was incredible." Our team showed continuous hard work and effort after defeating Torrance, Santa Monica, and Calabasas High, leading them to CIF semi-finals against Palos Verdes High School.
For Abcede Martinez (11), just being able to go cheer on our undefeated team was her favorite part of attending the games. "I loved cheering with my friends. We get so into what's happening on the field! Football season is just the best." Although having another season as "unpredictable" and exciting as this one won't be easy, Abcede remains hopeful and continues to support our team. "I'm not sure how we will do next year. I don't want to jinx it. But hopefully we do just as good as this season or even better. I guess we'll just have to see."
Like any good team, there is always an even better coach leading them. Coach Holt was very proud of how well the team played and how driven the rest of the coaches were. It wasn't easy to accomplish all that they did, but Holt is grateful for how well the season turned out. "At 7-0, 8-0, it becomes a pressure-packed situation, and North Torrance and Torrance were tough, emotional wins that took a lot out of us…[but] to be where we were, I'm convinced the coaching staff did a great job."
The West High Warriors managed to have a perfect season, make it to CIF semi-finals, and entertain the entire school every Friday night with an exciting close game. This season was a win not only for the players and coaches, but to the rest of West High. It's not easy to always be determined to win every game, but the Warriors tried their best and exemplified the rewards of their hard work and we couldn't be any more proud of them.