New Year, New Clubs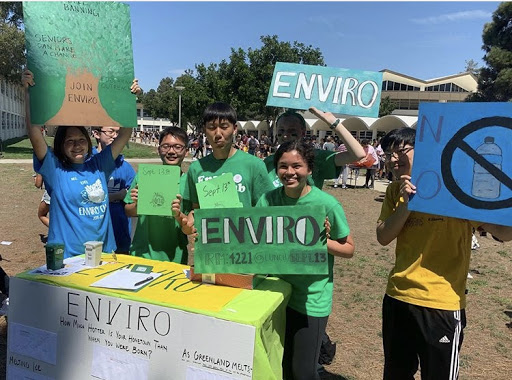 Have you ever wondered if there is a place that you can explore your interests of engineering robots, celebrating french culture, and preventing human trafficking? Club Rush is that place; it is an annual event that takes place every year at West High. It is a place meant for clubs to advertise to students what their mission is and why people should join the associations. However, people's perceptions of Club Rush vary.
   A freshman, Arushi Vagchi (9), excitedly states, "Club Rush was really fun", and that she will be joining several clubs. When asked about joining any clubs, Vagchi lightheartedly said she would be joining Robotics Club but "not for college apps, I'm joining because I really like science." From a freshman's perspective Club Rush may seem like a way to window shop your way through clubs. Ethan Hackett (9), liked that "…there is a place where all the clubs are in front of you showing you what they're about." Club Rush was designed for just that ––to make  navigating the extracurriculars of West High easy for freshmen and all other grade levels. 
   Now that it is clear what freshmen thought of Club Rush, what did those who have been through four consecutive Club Rushes think? David Sun(12) thinks that "A lot of clubs are superficial, I mean I know there are some that are really dedicated, and I think have meaning, but I think it gets obscured by too much focus on being in clubs just to put it on your college apps."
   Although some may think some clubs are superficial, West High has some of the most dedicated people working on the boards of several clubs. Alicia Koh, the VP of the Environmental Club, states, "Environmental Club at West tries to focus on spreading environmental awareness and to inspire young people to care and educate themselves to have a positive impact. This year's mission is to ban the distribution and sale of single-use plastics and plastic water bottles in the cafeteria in the cafeterias." Environmental Club was responsible for banning the use of styrofoam trays in the cafeteria several years ago, which is why we now use paper ones.
   Stylites Club and their booth were being run by very energetic young women. One of the board members, Kelly Kang (12), spoke on the club's mission and purpose. "We raise money that goes toward anti human trafficking organizations. We want to spread awareness of how common human trafficking is and try to make a difference to prevent it from happening more than it already is." Stylites is a great way to connect with organizations and people who are in need of help. You are not only donating money or participating in a club, you could also be saving a life.
   Following the trend of diversity amongst our clubs, possibly one of the most diverse, welcoming, yet controversial one is the Gay Straight Alliance club. Lauren La Rue, board of GSA, outlined their mantra and purpose: "Everyone needs a safe space because not everyone is out… so we want to offer that safe space." No matter one's orientation, everyone is welcome in GSA. No judgement, just love and acceptance.
   Last but not least, Robotics club. Chris Shin (12) explains that "Robotics is a great STEM club, however you don't need experience to join. We welcome everyone who is curious and hard working like us." Whether you are into musical theater or are the most brilliant math wiz, Robotics is a great way to grow your interests and to explore your potential in the STEM world.
   Club Rush, as detailed, is full of diverse clubs with different purposes: service, social, and academic. There is a club for everyone. Although all the clubs of West may seem fun and interesting, and perfect to put on your college application, take some advice from the senior perspective: don't get caught up in the superficialness of it, have fun and join a club you actually like and can be dedicated to.