The Challenge of Teaching in a Pandemic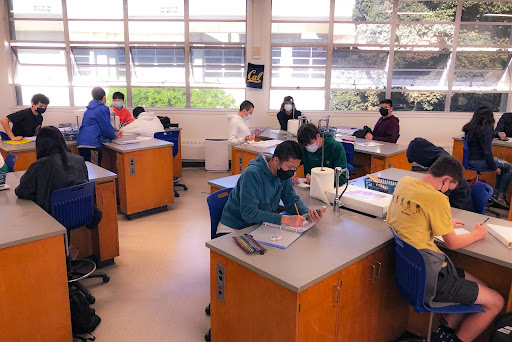 For two years now, our teachers have faced extreme pressure and changes that no employee of their importance should have to endure. We know this issue originates from the pandemic, and all the circumstances that came with it: for some this included lack of support, the lack of technology and the lack of control.
   Let's rewind to last year, where virtual schooling is the root of this lacking support. Take Mrs. Flaxman, who teaches AP Psychology, AP Statistics, and Algebra. It's reasonable to assume that with her skill in these subjects, it wouldn't be hard for her to manage classes even during this pandemic. In actuality, things were the very opposite.
   Mrs. Flaxman "hated teaching online." It was too difficult to keep up with and she lacked proper teaching tools (electronics and equipment, getting sick, conditions at home, etc.). She described the difficulty to teach online last year: "You had to worry about [the students'] behavior behind the screen — [I couldn't tell] if they're distracted or on another device… [it] was hard to manage." 
   Academic honesty became another challenge. Checking for participation and homework wasn't as efficient as it could be, and that limitation affected more people than just Mrs. Flaxman. The sheer difficulty of grading overwhelmed most teachers. Some reported experiencing symptoms of PTSD and higher stress levels: "The thought of teaching on a computer gives me anxiety," she shared.
   Additionally, teachers had a factor of the unknown to worry about. Like how they "can't engage with students — [they] can't check on [them] on the other side of the screen," English teacher Ms. Imbarus described. Teachers were unable to interact with students as effectively with their limited access to know what goes on behind the screen at home.
   Mrs. Flaxman explained how it's a relief "just be[ing] back in person, face to face with students. [It's] so much more engaging than teaching to a computer screen." With in-person learning, teachers can "check for understanding and have better dialogue with students. It allows them to ask for understanding and allows [teachers] to elaborate on questions."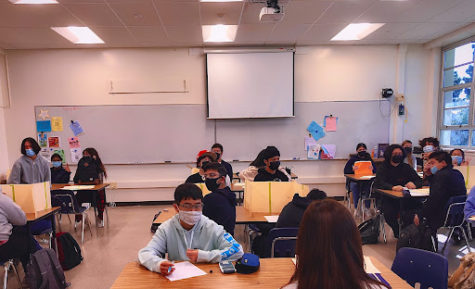 Online education "for self-motivated learners who can learn from a book on their own was fine. [The problem was that] that type of student was a rarity." This was another of many reasons that staff felt relieved to return to an effective learning environment. While things aren't perfectly normal yet, they're getting better.
   It seems that coming back fixed a lot of things for our school and teachers. Talk about a happily ever after, right? Actually, it's not that simple. Returning to campus doesn't erase the scars from online learning. Plus, things still aren't over: The pandemic is still ongoing and so are the constraints that it brings.
   Teachers who were absent from quarantining during Omicron's wave reported a small spark of stressful nostalgia as they instructed online. Ms. Imbarus couldn't even host class over calls because of her intense symptoms. She was so overwhelmed with self-care that she could only send update emails once every morning or night. "And it wasn't fair," she expressed, "because I didn't have [my] COVID sick days to support me during that." 
   Normally, all teachers have 10-12 paid days a year that they can take off for sickness. A policy at West says that teachers who can host classes from home while quarantining don't have to use up their sick days. Considering the difficulties that come with at-home teaching, many teachers find this unfair.
   According to school finance reporter Mark Lieberman and teaching professions reporter Madeline Will on EducationWeek, teachers were given extra days of paid leave as of March 2020 from a requirement by Congress, but "the policy expired as soon as 2021 began." From April to September 2021, there was a small rebound as "school districts and other employers [became] eligible for tax credits in exchange for voluntarily offering COVID-specific paid leave." These policies took effect until they expired in September. Since then, teachers can only rely on their regular sick days without the help of COVID-19 days. Any absent days without special notice beyond those would leave teachers unpaid, even if they are still sick.
   In an open-ended poll for school staff hosted by Director of Social Media and Audience Engagement for Education Week magazine, Marina Whiteleather, about the number of offered sick days, "The majority of respondents said they have to use their own sick days, and if they run out, then they're stuck taking unpaid leave." We are two years into the pandemic and we still deal with this kind of problem. COVID-19 variants will continue to rapidly appear, and it shouldn't take another attendance knock-out to suggest action towards protecting our staff.
   These health-related policies ended in September 2021. Since then, our district and many other big employers have been hesitant to act for more protection for staff from COVID-19. Why?
   Lieberman reported that admins of hesitant districts cited worries "about worsening the existing crisis of staff absences and temporary school closures." The decreasing number of substitutes available made it difficult to let off teachers, but Ms. Imbarus "found it more important to consider [teachers'] health." By giving people more time off, concern builds for the functionality of the education system: Would staff use their extra days for reasons unrelated to COVID-19? How would this change the number of teachers and substitutes on campus? And more critically, what would this do to student education? One concession TUSD has since made is that if an employee is exposed to COVID at work and they run out of sick leave, they will continue to be paid your full salary during their quarantine or isolation period. This is helpful since normally a teacher must pay for the sub out of pocket once their sick days run out.
   But the more hesitance there is to supply teachers with their needed resources and equipment, paid leaves, and the consideration of their mental and physical health, the less progress we will make towards overcoming the crises that arise from virtual schooling. 
   "It's like a puzzle," said Mrs. Flaxman, "but we're all in this together."
*The opinions expressed in our Opinion articles are the author's own and do not necessarily express the views of the Signals Staff or West High as a whole.