Implementing COVID-19 Mandates Could Truncate the Pandemic
   Masks up, sanitizers packed, three feet apart: the drill for the 2021-2022 school year. Schools throughout the country have reopened, despite the global pandemic, out of necessity for schooling.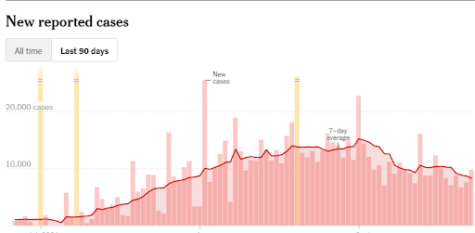 The distribution of vaccinations to students older than 12 has played an important role in allowing students to return to school. So far, the TUSD administration has taken every necessary step to make the reopening of schools safe.
   Not very far away, the Los Angeles Unified School District (LAUSD) encountered a surge in COVID-19 cases during their first two weeks of opening. According to the Los Angeles Times, 3255 cases of COVID-19 were reported. Despite safety measures, large outbreaks still occurred. 
   Perhaps because of this increase in infection rate, the country's 2nd largest school district ruled to mandate COVID-19 vaccinations for students earlier this month. Well, Torrance isn't very far away from Los Angeles. And this is why we need to take further action to reduce cases. 
    West High principal Mrs. Murata shared that West conforms to TUSD's planning. She justified that while the district hasn't required vaccination yet, the "staff are now required to show proof of vaccination or provide weekly COVID-19 testing results." 
      To prevent another outbreak from occurring in Los Angeles, COVID-19 vaccination mandates are the most effective way to ensure the safety of those returning back on campus. Cases have gone down since August, making now a crucial time for more of the population to get vaccinated. 
   Even though 81% of students 12 and older in Torrance have been vaccinated according to TUSD, the number isn't a full 100%. However, if TUSD were to mandate vaccinations, this situation would change. 
   Vaccinations aren't just a means to protect ourselves from deadly viruses: they have a stronger universal purpose. When we keep ourselves safe, we are protecting our loved ones. If TUSD were to require COVID-19 vaccinations, our school would be safer. We can keep our friends, teachers, and staff safe – only if we are all vaccinated. 
   Students already have to be vaccinated for many diseases, such as measles and Varicella. COVID-19 is simply another that we need to protect against.
   In fact, a similar argument was brought up in an LAUSD board meeting in September by board member Nick Melvoin. He noted that the COVID-19 vaccine would just be another required vaccine along with other diseases.  
   However, some students at West don't feel the need for vaccination mandates since the situation is being handled carefully: Rithul Rengarajan (11) pointed out that "I don't feel a problem… and everything is pretty safe here." However, even if the current situation doesn't create deep concern, getting the school completely vaccinated isn't harming us. Going the extra mile to increase safety by mandating vaccines is crucial for controlling the spread of the virus – and will help put an end to the pandemic once and for all.
 *The opinions expressed in our Opinion articles are the author's own and do not necessarily express the views of the Signals Staff or West High.