Stumped by Trump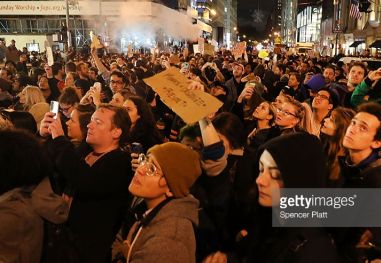 Following the 2016 election, colleges across California have erupted in a mixture of anger and depression. Students from all over the mainly democratic state have been protesting the unexpected victory of Republican presidential nominee Donald Trump, and have taken to the streets, chanting "(Expletive) Donald Trump!" among other things.
  The main source of evidence that showcases this displeasure is the online world. Social media sites like Twitter and Instagram have been blowing up with posts complaining about the new President of the United States. College campuses are cluttered with unhappy voters who still have yet accept the results.
  "It's not the first time we've had a walkout. We know what to expect, we know what we need to do," said Berkeley Unified spokesman Charles Burress. School and district administrators and faculty accompanied the students as they marched from the school through downtown and onto the UC Berkeley campus.
  UC Berkeley isn't the only California school that is attempting to deal with the riled up citizens. The staff of UC Irvine and UCLA are currently at odds with their students. Multiple arrests for vandalism, destruction of public property, and even mayhem were made in the early morning hours on Wednesday, November 9th.
  Despite these acts of violence, efforts have been made by fellow students to try and calm down the masses. Many of these temporary diplomats just want to return to their normal college lives, and worry about the state of the nation later on.
  N.J. Omorogieva, 19, said she was "heartbroken" by the election's result when she spotted the crowd in Westwood while walking home.
  "Of course, I joined in," she said. "To give hugs to people who were overcome by devastation."
  One of the biggest concerns amongst these furious demonstrators is the belief that Trump's election will strike a major blow against civil rights. The common consensus for these protesters is that Trump is a racist, and that having him as president will do more harm to non-whites than good.
  "This generation deserves better than Donald Trump," said Lily Morton, 17, marching with about 100 classmates from the Georgetown Day School. "The queer people, colored people, women, girls, everyone that is going to be affected by this, we need to protest to help them."
  Whether or not Trump actually is discriminating anyone who is not white, the message seems clear: Californian college students are not happy with the results of this election.