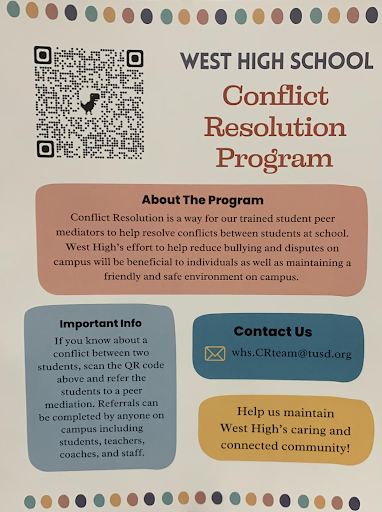 If you are involved in a conflict at West High, you may be referred to the dean. If it's really bad, you could get sent to Saturday school, or worse, suspended. If only there was a way to stop these conflicts before they reached a boiling point. Thanks to the new conflict resolution program, West High students may now have a safe outlet where impartial peers can help resolve disputes before they grow too out of hand. 
   Aastha Kashyap (12) is a member of the program and explained that "this is an alternative [to adult intervention] to help students mediate conflicts on campus." By talking to these mediators, students may feel more open about sharing their conflict with others in a safe space when going to an adult would otherwise be too overwhelming. Students can also rest assured with the fact that student peers promise not to pick sides in a dispute and genuinely want to help. For Kashyap, being a part of the program means a lot to her: "Throughout my years [at West], I have experienced bullying before and I was too scared to ask for help. So I figured that this is the best way for me to give back to the people who did help me . . . and to my community before I graduate."
   On the subject of community, the conflict resolution program is also working on teaching both middle school and elementary school students how they can be mediators and solve problems within their schools. By teaching this next generation of West High students, these current participants are paving the way for a better student body in the future. 
   Sasha Rogala (12), another mediator for the program, offered some advice to fellow members seeking to tackle the problems they receive. She mentioned that "active listening and making an effort to understand" are some of the best ways to resolve conflicts, methods that Rogala herself uses to mediate disputes. Coupled with using the conflict resolution program, paying closer attention and listening to others more might prevent potential misunderstandings from taking place.
   Though this is the program's inaugural year, adviser Ms. Flaxman expressed that "we [in the program] are hoping that if peers can help to resolve conflicts that [students] are having, then that will reduce the number of disagreements, fighting, [and] bullying" The method of dispatching students instead of teachers may prove to be effective in addressing the often insulated problems seen within the student body. Ms. Flaxman stated that those struggling with any sort of conflict should "reach out to [her], any other staff member, or the flyers posted in every classroom. . . and that should get them [our] information so that we can help them with  the conflict." 
   The new West High conflict resolution program is here to help students resolve their disputes with each other in an adult-free zone where students can openly share their feelings among neutral peers who wish to help. Without a doubt, the program seems like it will be an invaluable resource that is just a QR code away.