"Teamwork Makes the Dream Work" at West High Dance Department's Winter Showcase
February 26, 2023
   As the lights began to dim in the Performing Arts Center, a spirited audience, which turned up in droves, fell silent in anticipation. The culmination of months of diligent work by the West High Dance Department was about to unfold in front of them. After a brief salutation by Student Artistic Directors Misa Cohen (12) and Nene Nakagomi (12), the crowd erupted in rapturous applause.
   The annual Winter Showcase, which commenced between January 6 – 7, was a spectacle to behold. Dazzling costumes, dynamic music, and masterful choreography, all radiated by scintillating stage lights, enthralled the crowd throughout the roughly two-hour performance.
   But behind all the coruscating action, there is a meticulous process that comes into play: From months of practice and conditioning to developing the choreography and costumes, there is a myriad of moving parts that comprise the eventual performance. Intermediate Dance member and astute choreographer Rinon Asama (11) detailed the creative process of choreographing musical sets: She "watched a lot of last year's dance shows and the dances of the older dancers," referencing them for her ideas.
   Equally important in the choreographing process is developing dance sequences consistent with the overall sentiment of the song: "If it is a joyful song, you have to move in a way that expresses that," Asama observed. "Dance uses the body to express one's emotions; if that is not conveyed, [the sequence] is meaningless."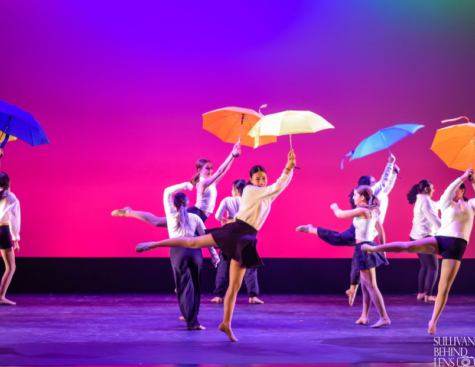 For first-year Beginning Dance member Alissa Phillips (9), she was one of four students tasked with choreographing the iconic routine for "I'll Be There For You," detailing how costumes and props drew heavily upon the musical piece's theme: "[We] did a theme song from "Friends" and used umbrella props so we based the dance around that." According to Phillips, members of Beginning Dance had the option to perform in the Winter show, unlike their Intermediate and Advanced counterparts. Phillips was glad she chose to participate, remarking how she befriended many dancers through the program: "Spending hours every day after school together and then performing made us so much closer." Indeed, the product of their hard work, collaboration, and ingenuity — which included rehearsals leading well into 9:00 PM — paid itself in dividends.
   But their resounding success did not come without challenges in the weeks leading up to the event. Phillips attested to this: Engaged in the performing arts for the majority of her life, the stage did little to perturb her; instead, Phillips channeled her "nervous energy [to make her] performance even better." 
   "But that wasn't the case for everyone," Phillips explained. Many of her fellow first-time participants unwittingly "made themselves feel sick because of how nervous they were." And while there were some minor "falls and mishaps on stage," Phillips was "really proud of how [the Beginning Dance team] did." Similarly, Asama hoped to assuage some dancers' apprehensions: "they were too serious about the dance; their faces were not smiling." Not only must one master the dance; one must master their facial expressions.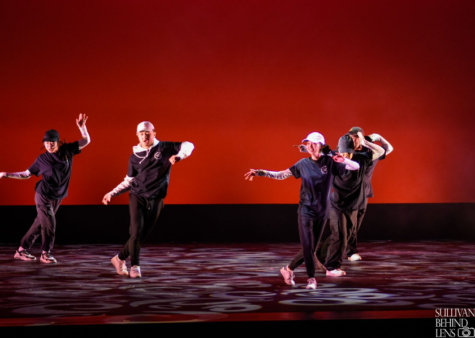 Broadly speaking, the West High Dance Department has come a long way in the past two years. With the pandemic marking a watershed for the program, West High alumnus and former Advanced Dance member Zoe Kono could relate to the challenges confronted by dancers. A Student Artistic Director for the Class of 2021, Kono recalled how the bulk of her leadership entailed "teaching, making announcements, and keeping the whole team up to date"; responsibilities made even more daunting due to the physical isolation during lockdown. Despite these trials, Kono remained steadfast: "We were expected to be trustworthy, passionate leaders not just for the Advanced team, but for Beginning and Intermediate too" — hallmarks of any Student Artistic Director, past and current.
   Recounting her experience at the latest show, Kono exclaimed, "I was so hyped at how creative the dances were . . . I could never predict what was going to come next," gesturing, "I'm sure [Ms. Vorhis] could hear me and the other alumni screaming our lungs out." Impressed by the fortitude of the dancers and the longevity of the program, Kono hoped that "the Department keeps encouraging this freeness of creativity because [she] could tell how much everyone loved performing.
   Indeed, dance has an immense impact on how performers communicate with one another. "You could almost consider dance a universal language," Phillips proposed, adding that "no matter where you are or how you live you can still tell stories and connect with others through dance," thereby transcending language barriers or disabilities.
   The impact of dance on the audience, Phillips observed, is equally profound: the ineffable feeling of a performance "that [makes] you want to cry or jump up and down with happiness," is somehow more arresting, more evocative than words or music alone. 
   Finally, Kono imparted valuable advice for current and future dancers: "Be observant of your teammates, don't just focus on yourself." According to Kono, this allows dancers to better evaluate their timing, improve synchronicity, and perhaps find inspiration in the way other teammates dance. "Self-improvement comes from good observation," Kono shared. In other words, "strive to be a dancer with a sharp eye."