West High 2022 Modeling Tryouts!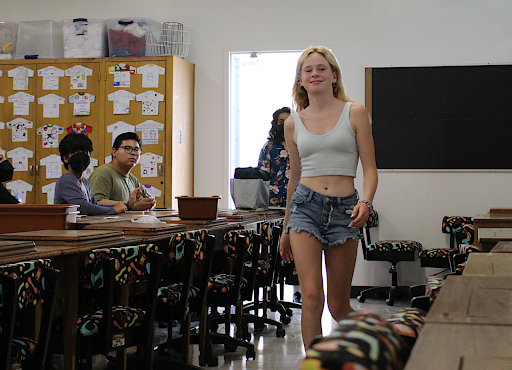 From Sept. 7 to Sept. 8, models were seen lining the halls of Building 2, eager to attempt to gain a spot in the West High Fashion Show. Models were seen dressing up and walking the posing stage through Room 2118, no matter the pressure or the extreme weather conditions.
   But not only was it looking good that made someone a model, it was also about inspiration, the art factor, and self expression, whether it be walking onto stage, or simply posing in front of an audience. These are all big reasons people try out to model.
   Still, as we attempt to run away from the sweltering heat of the summer season, new fashion models begin to strut straight into the chilly escape of fall, where coats and sweats will be casually worn in multiple layers. Whether it be ripped jeans, or West High letterman jackets, models can be seen rocking it all. With grins across their faces, these models were just happy to be in the moment. "Everyone has really good confidence…People are definitely out of their element," explained Designer Alexandria Arnold (11). 
    Even though women dominate the fashion scene with an unbelievable 77.7% of fashion models being women and a mere 22.3% being men, this doesn't mean men are not in the picture. 
   Contrary to popular belief, modeling is also in the line of work for men, and it always has been. From welcoming environments to friendly people, modeling has always been about giving people chances, even when in doubt.
  At West High, this scenario is no different. Whether it was male senior designers such as Jude RD Arabit (12), or male trainees such as Nicholas Cho (12), everybody was given opportunities to try out: "We have other males doing the fashion show this year. We had a very big turn out especially for guys coming to audition," Jude Arabit explained excitedly. 
   Not only does modeling have a welcoming environment, it is easy to get started with, even if it is your first year doing it, "A lot of my friends are in fashion, and I know that they are looking for models each year, so I wanted to help," exclaimed Alexis Lee (10), first time model trainee.