West High Glows Brightly in the Spring Sports Rally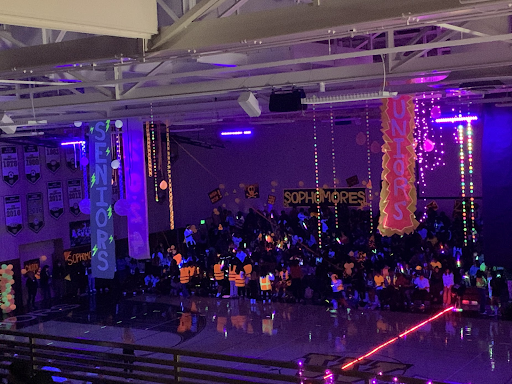 On Friday, March 25, students of West High filled the gym with fluorescent colors. With Freshmen dressed in neon green and yellow, Sophomores in neon orange, Juniors in neon pink, and Seniors in white and neon blue, the audience glowed under blacklights at this year's Spring Sports Glow Rally.
   "ASB's main goal in preparing for the Glow Rally is to let each grade let loose and have some fun," Freshman ASB President Angelina Quiroz (9) shared. "Promoting class spirit is basically our whole job as ASB, so having a glow rally in the dark with so many bright colors, decorations, and more surprises would really help with that."
   Sophomore ASB President Micah Taw (10) explained the behind-the-scenes: "We've been planning this glow rally for over a month in advance, and spent countless hours during and outside of school."A lot of Taw's preparation work with ASB included lots of decorations. He added, "We made large posters, hung up lights, set up glow lighting in the gym, and hung streamers and balloons. We even added a fun lightsaber battle in the middle of the glow rally."
      Thanks to ASB's hard work, the day finally came, and glow-in-the-dark decorations filled the gym. Mixed with booming music and student cheers, the rally certainly did not fail to create an exciting atmosphere. With fun games and entertaining performances from West Drill and All-Male, this year's Glow Rally was nothing short of a success.
   After a quick spotlight for our spring sports, class competitions began. Organized by ASB to "boost excitement," these games are essential to every rally, encouraging school spirit by "allowing students to cheer on their classes," as Taw described. First was a game of spikeball: with a win against the Sophomores, Seniors soon faced the Freshmen after their close game with the Juniors. But as most rally games go, the Seniors were victorious. This wasn't the only win for the Seniors, however, as the class of 2022 took another win in the rally's dodgeball game.
   With just enough time left, the Glow Rally ended with a hip-hop dance performance from Drill and All Male. "The piece we performed was our small co-ed hip hop routine," shared Drill Co-Captain Saki Matsumoto (12). "It consists of different types of hip hop and was choreographed by three of our coaches."
   Performing for rallies brings the benefit of an excited crowd. "The audience's energy was amazing during the performance!" Matsumoto expressed. "It was really cool to get cheers from our own peers. . . . It helped us perform better." For Matsumoto, "The best part about performing at the Glow Rally was being able to do [our routine] in front of everyone." Initially showcased during WDAAM's dance competitions, this choreography had not been performed in front of a larger West audience. But thanks to the Glow Rally, WDAAM was able to bring their iconic performance to our audience.
   With a final applause to the dancers, the Glow Rally came to a close. Looking back on her first time organizing the Glow Rally, Quiroz concluded, "I think we succeeded in making our classes as excited as possible, which was our main goal all along!"