Boosting School Spirit at the Winter Rally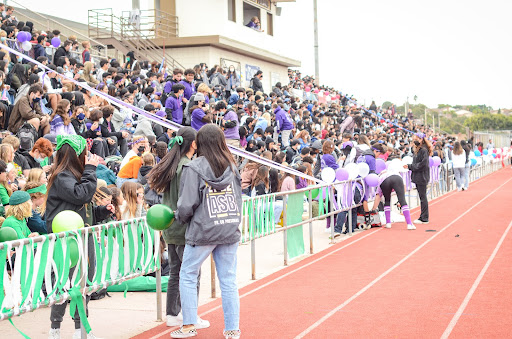 Banger music played in the background as crowds with green, red, purple and blue colored outfits cheered for their grade levels. The stadium at West was filled with high schoolers pumped up for their first Winter Rally in two years, with one thing different this year: school spirit!
   As a new student at West High, Ali Shreif (12) shared that he "enjoyed the performances . . . it did show school spirit." The West Cheer team was excited to be back performing for everyone in-person. Cheer team Captain Eva Reyes (11) pointed out that even though it was cold outside, in December, "it was really cool to see more people when performing, as before, in the gym, only the upperclassmen were in the front . . . so we weren't really able to see everyone ― the whole school."  With all four grade levels sitting on the bleachers, applauding the cheer team, both upperclassmen and underclassmen enjoyed watching the performance, which represented every class color.
   This year being a little different with twists and turns in every aspect of school, Reyes was concerned about the new stunts that Cheer was attempting for the first time at this rally: "We were a little nervous because you never know how something's going to go." However, with everyone's support and effort, everything went according to plan! 
   After more than a year of online rallies, playing physical games proved to be a proud experience for Brandon Vo (11), a Junior who participated in the relay race. Vo expressed, "I was preparing for it the day before and told my friend that we could win this." Practicing coordination with his partner to win the race for himself and the Junior class motivated Vo to give it his all: "It felt like I was doing it for the Juniors and I wanted to make them proud." Laughing about not being able to see past the beanie that covered his eyes and not being able to run in the pants that didn't fit him, he commented, "We had fun and that's all that matters!" Vo recalled that the last time he participated in such a rally was in ninth grade, and he was delighted to see its comeback! Whether through seeing everyone in their class colors or cheering for grade representatives during the relay race, students encouraged one another to get involved. 
   Reyes analyzed the differences between an indoor and outdoor rally. When asked whether she preferred an outdoor venue or an indoor one, her analysis consisted of what an indoor rally can achieve that an outdoor one can't. An indoor rally, as she mentioned, can accommodate different themes, such as the glow-in-the-dark rally that took place two years ago, which "we can't really do outside." Nevertheless, both venues offer the same goal: to increase school unity and a sense of community. 
   Rallies, whether inside or outside, can hype students up for performances, games, candies, and other displays of school spirit! Cheer and the winter relay race surely provided a thrilling experience for many West students!